Spring has arrived in Fort Wayne. Flowers are blooming; wildlife is reappearing; and parks and trails are slowly filling with people eager to shake off the winter blues. 

In Downtown Fort Wayne, a new season is about to begin, too: Baseball season.

The city has a rich history with baseball, home to the first professional game in 1871, and to fabled teams, like the Fort Wayne Daisies, who helped inspire the film "A League of Their Own." In many ways, the TinCaps at Parkview Field carries on this legacy today, infusing Downtown with energy and spirit that's undeniably unique.

"It's more than baseball," says Kirsten Guthrie, Vice President of Marketing and Communication at Visit Fort Wayne. "It's the experience that people have at Parkview Field that's so exceptional."

Regardless of how well the team plays and even beyond the entertainment between innings, the legacy and momentum created by Parkview Field can be felt throughout Downtown, where businesses, entertainment options, restaurants and retail are blooming because of its existence.


As the Fort Wayne TinCaps return to the field on April 11 for the first of 66 home games slated for the 2023 season, we explore the rich history of baseball in Fort Wayne, the magic that makes Parkview Field so special, and how America's favorite pastime has shaped our city over the years.

A Baseball City

In many ways, Fort Wayne has long been a baseball city. Dating back to 1871, the sport has had a presence here. While Fort Wayne went a number of years without an affiliated team during the 20th century, in 1993 the Kenosha Twins franchise was relocated to Memorial Stadium, a new ballpark near the Allen County War Memorial Coliseum. 

And when it happened, Fort Wayne showed up to support its new team. Even if people weren't too fond of the name, the Fort Wayne Wizards, fans bought more than 1,700 season tickets before opening day, breaking the Midwest League record at the time. When single tickets went on sale ahead of that first season, fans spent the night outside the stadium and sold out opening day in 15 minutes.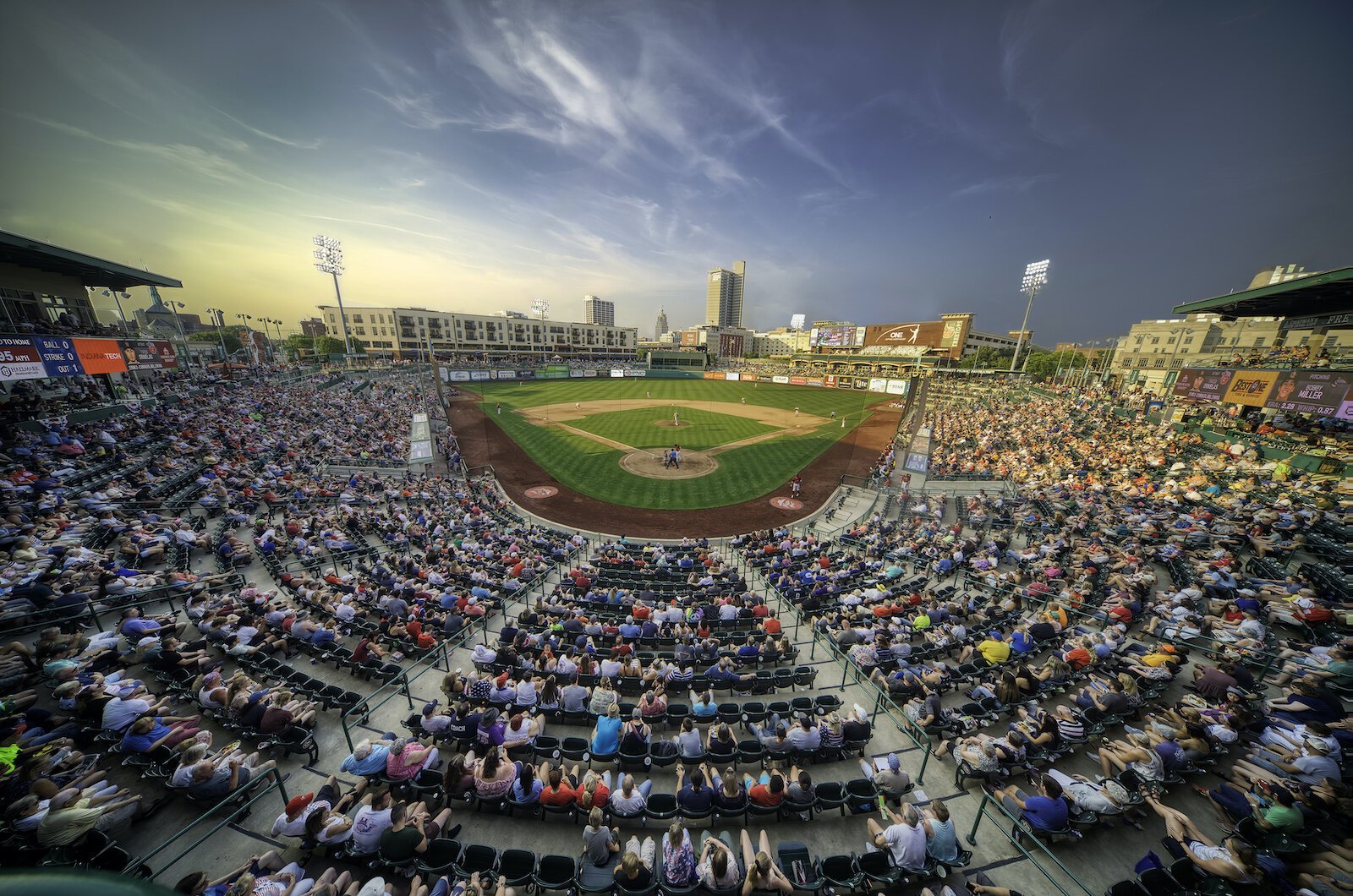 In 2006, talks of moving the Wizards to Downtown Fort Wayne began to stir, and by 2009, the Wizards were no more. The City of Fort Wayne made the highly controversial move to relocate its baseball franchise to a new $30 million ballpark Downtown, renaming them the TinCaps.

The new stadium was designed to draw inspiration from other great baseball fields across the U.S., with details like a 1,400-square-foot screen to display videos and graphics (the second largest in MiLB), and a lawn section with $5 tickets (now $7).
 
Much like in 1993, Fort Wayne showed up to support its team and once again expressed reservations about the team's name. Even so, tickets to opening day at Parkview Field in 2009 sold out in 27 minutes. And in many ways, the hype around hasn't dissipated.

Today, 14 years after the Downtown baseball stadium opened, Fort Wayne is still showing up to support its TinCaps at Parkview Field. On average, 371,932 fans visit the stadium every year, and if you ask TinCaps President Mike Nutter, a lot more than baseball goes into making the experience special.

From entertainment and themed nights to merchandise, maintenance, menus and everything in between, the staff at Parkview Field has meticulously planned and eagerly awaited the start of each season—with world-class quality.
Nutter himself was recognized by Minor League Baseball (MiLB) as the 2022 Executive of the Year. According to the MiLB website, there are 120 teams affiliated with the league, and the Executive of the Year Award honors the executive "who best embodies the inspirational leadership, strategic innovation, business-driving vision, and exemplary service to their club, community, and the game of baseball."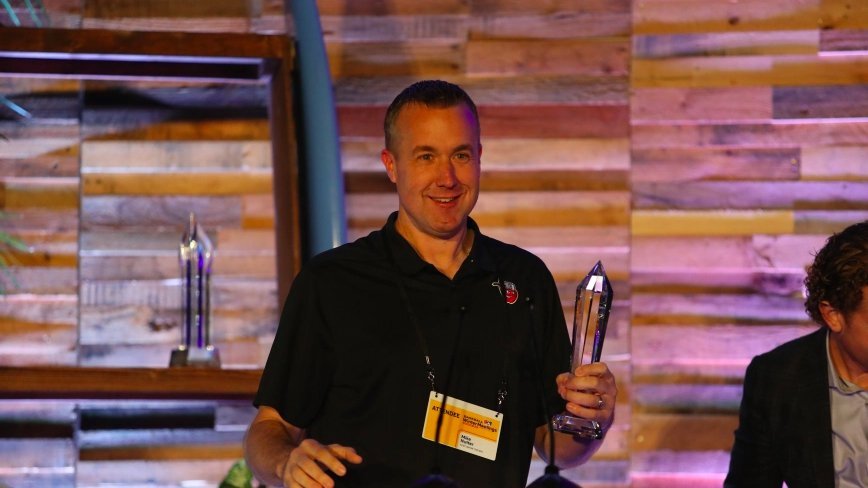 Nutter says he was born into a home where sports were a big deal. But as much as he loved the games, he knew from a young age that he might not be a player on the field, so he attended Bowling Green State University in Ohio, where he studied sports management. When he moved to Fort Wayne with his wife, Beth, for a job with the Fort Wayne Wizards, he didn't expect to be in the city for more than a few years. But that was in 1999. Now, Fort Wayne is his family's home. 

Nutter served as General Manager of the Wizards from 2000 until 2009, when the team became the TinCaps.

Now as president of the TinCaps, he's an enthusiastic leader, focused on creating memorable ballpark experiences and building a lasting legacy for Fort Wayne's baseball franchise. Baseball might be the name of the game, but Nutter says the team at Parkview Field is more focused on what happens off the field. 


"Long, long, long after I'm gone and other people are here, I think we'll be judged by the impact that we had, and I'd like to think the impact we've had has been pretty good," says Nutter. "Last year on the field, if I'm being blunt, we weren't very good at all, but the stands were full and we could still make that impact."

Every part of a visit to Parkview Field is carefully catered to create an experience, including the menu, which Nutter says they review and change during the off-season. This can either excite or disappoint returning fans. During the 2022 season, Parkview Field sold more than 17,000 chicken tender baskets, 9,694 Two EE's Wine Slushees, and 19,314 hot dogs. For the 2023 season, he says to be on the lookout for new items, like bourbon slushies, black bean burgers, and bundt cakes.

Each home game has a theme, like the beloved Thirsty Thursdays and Paws & Claws Nights, or tributes to other regional sports, like the Indy 500 or the Colts. A few newer additions to the schedule include the Fort Wayne Daisies Throwback Nights and '90s Night, complete with Wizards throwback uniforms and merchandise.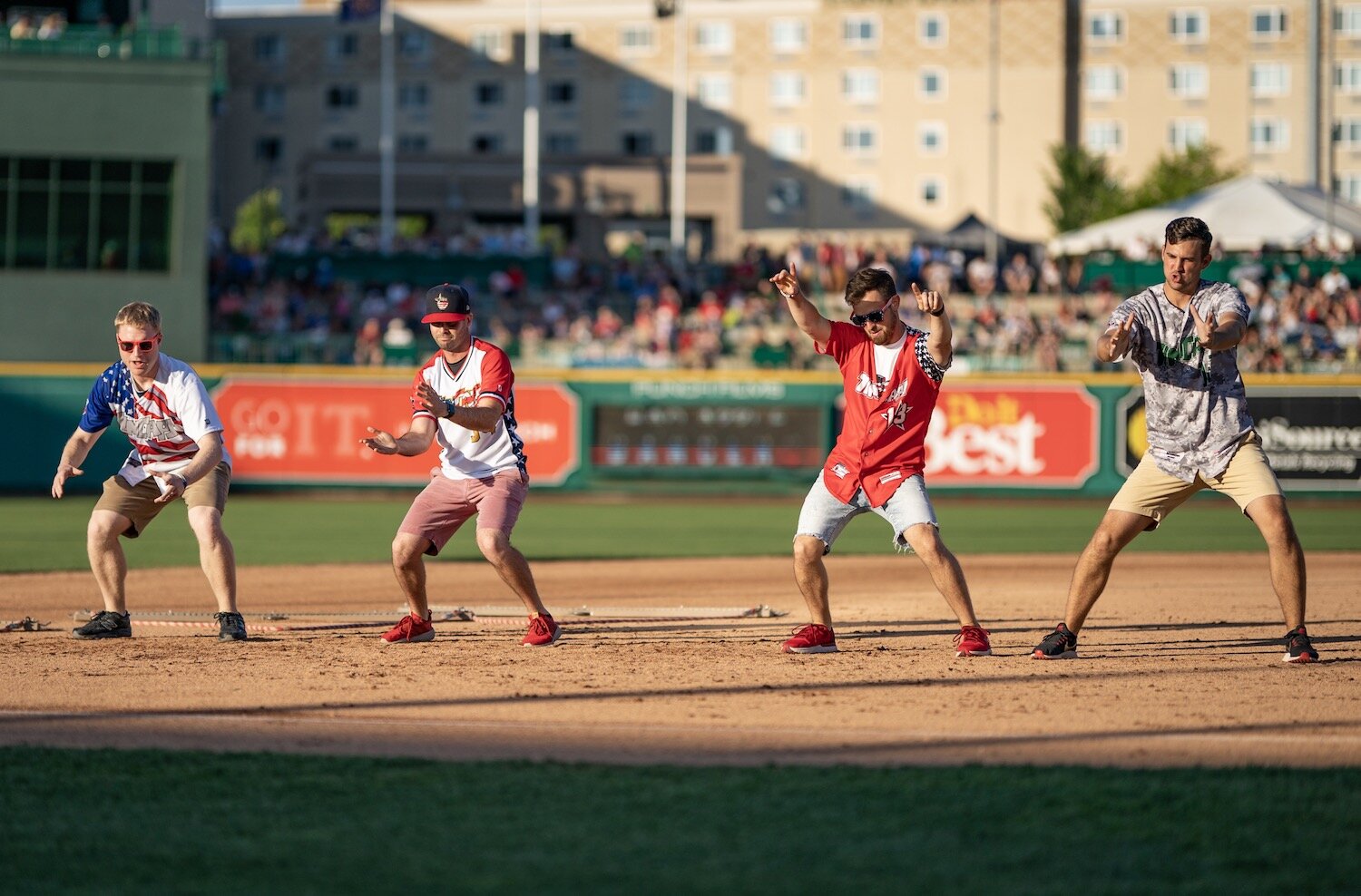 Sometimes, the themes and food collide with nights like Peanut Free Night, when the ballpark is cleaned and does not serve any peanut products, or Hoosier State Tenderloin Nights, where the team plays as the Hoosier State Tenderloins, and the concessions offer the unofficial sandwich of Indiana, a tenderloin.

Whatever the theme or entertainment, Nutter says it helps draw people to the park.

"Maybe people come out that day who aren't big baseball or TinCaps fans, but think, 'Wow, this is pretty cool,'" he says. "That's what we're trying to do through the Mental Health Day, The Office Day, through the 30 fireworks shows, through the food promotions, the Star Wars, the Marvel, all the craziness that is minor league baseball. Maybe it will appeal to someone and then they will come out."


While some fans might only come for the on-field play or find the entertainment and themes to be too gimmicky, Nutter says it's all in good fun and keeps people coming back, allowing the TinCaps to continue making an impact on the community.

More Than Baseball

Fifteen years ago, Downtown Fort Wayne's landscape looked much different than it does today, and people were far less optimistic about its future.

Nutter says when discussions of moving Fort Wayne's baseball franchise to Downtown began, residents were skeptical. After all, Memorial Stadium was relatively new, and the new field would be the first investment of its magnitude in Downtown Fort Wayne. Many wondered: Could something like this really work here?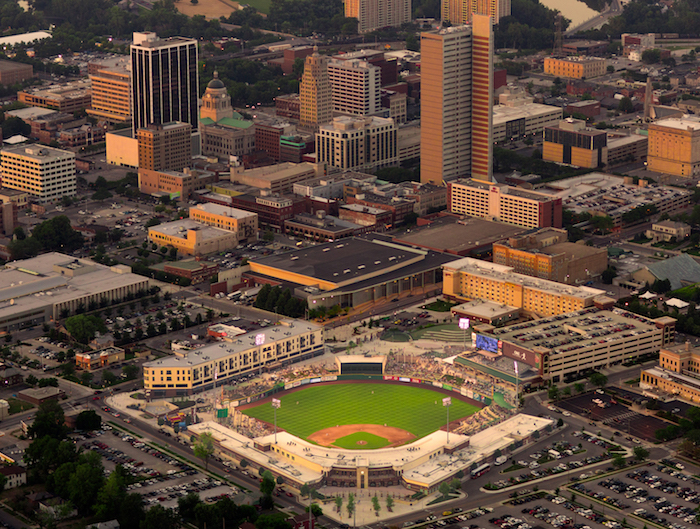 But what the people of Fort Wayne didn't know at the time was that Parkview Field would become the first of many projects revealing that Fort Wayne could successfully revitalize its urban core.

"There was resistance," recalls Guthrie, "But now people don't need as much reassurance with new projects. Instead, they often say: If we can do Parkview Field, we can do these other new projects."

Guthrie says it's no question the building of Parkview Field was a turning point in Downtown's history, but it was more than that; it was also proof the community could do projects well. In many ways, Parkview Field created a blueprint for creating and executing high-quality revitalization projects in Fort Wayne. It showed people locally and regionally that the city could have a future—and a bright one at that. 

"The thing that made an impact is that they had a commitment to carrying it out in a high-quality way," she says. "That carries into other developments."

Frank Howard, Director of Operations at Downtown Fort Wayne, describes the investment in Parkview Field as a catalyst for not just Downtown, but for all of Fort Wayne. In the past five years, Downtown has witnessed the progress of nine large-scale developments, including the Skyline Tower, the Landing, the Riverfront, Electric Works, and the Lofts at Headwaters Park.


"We all recognized the catalytic effect that Parkview Field had on not only Downtown but Fort Wayne as a whole," he says. "Parkview Field, along with the ACPL Main Library renovation, were two major statements that our community made around this time to say we care about our center city; we care about having a Downtown that is active, vibrant, and engaging because we recognize that, as the heart of our shared community, Downtown is the place where everyone is welcome to pursue excellence." 

Downtown Demand

Among those seeking to pursue excellence in Downtown Fort Wayne are now many large, regional businesses. Companies like Ash Brokerage, Star Financial, Do It Best, and Swiss Re have all made the move to Downtown Fort Wayne in the past decade and a half.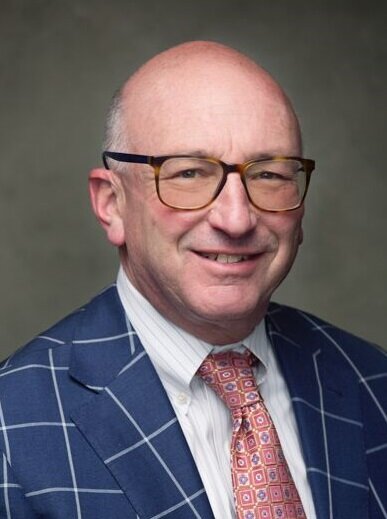 In 2009, according to the Zacher Company, a Northeast Indiana commercial and industrial real estate company, Downtown had an office vacancy rate of 18.8 percent, which Steve Zacher, President of the Zacher Company, says was low compared to national numbers at the time. But from 2010 until 2021, that number has been under 10 percent, making it lower than any other quadrant in Fort Wayne. 

Last year (2022) was a banner year for new construction, with almost 10 times as much construction happening Downtown compared to previous years. This was thanks, in part, to projects like Electric Works and The Riverfront, says Zacher, which is why the vacancy percentage has risen above 10 percent for the first time in 14 years.

The Downtown area is also the most expensive quadrant for commercial and office space. But that doesn't keep companies away. 

"There was for sure a day when there was no retail Downtown," says Zacher. "There's a lot of restaurants and bars, and a little retail now. It's coming along."

It's not just companies eager to be Downtown either. More people are attending Downtown events. According to the Downtown Improvement District, the total event attendance in 2009 was estimated to be 33,700. Now, those same events, known and loved by the community, like BuskerFest, Fright Night, and Night of Lights, have drawn roughly 107,000 people, as of 2022.

"To quote something my kids say: We kind of got our swagger back in this region," says Nutter, "Hey, maybe we're not Chicago or Indy, and maybe we're not even aspiring to be that, but it sure feels like, for the Midwest, we've become a major thing on people's radar. Maybe a little Minor League Baseball team in the center of Downtown has a little to do with that, and if that's the case, that's really cool."
Written by Brittany Smith. Brittany Smith is Input Fort Wayne's Managing Editor. She volunteers at Northeast Indiana Public Radio and previously participated in the College Input Program.
This story is made possible by support from Downtown Fort Wayne in partnership with Input Fort Wayne.