From the mural-lined buildings to the Arts United Campus, Downtown Fort Wayne's creative environment is unmistakable. It's home to many different creative businesses, including marketing firms, full of energetic, enthusiastic staff who work to share the messages and missions of local partnering agencies, businesses and nonprofits.
Their work is all around Fort Wayne, creating strong local brands. Some of their work makes it beyond the local view, to a national or international stage, found on billboards and print ads across the country or on the screens of people across the world.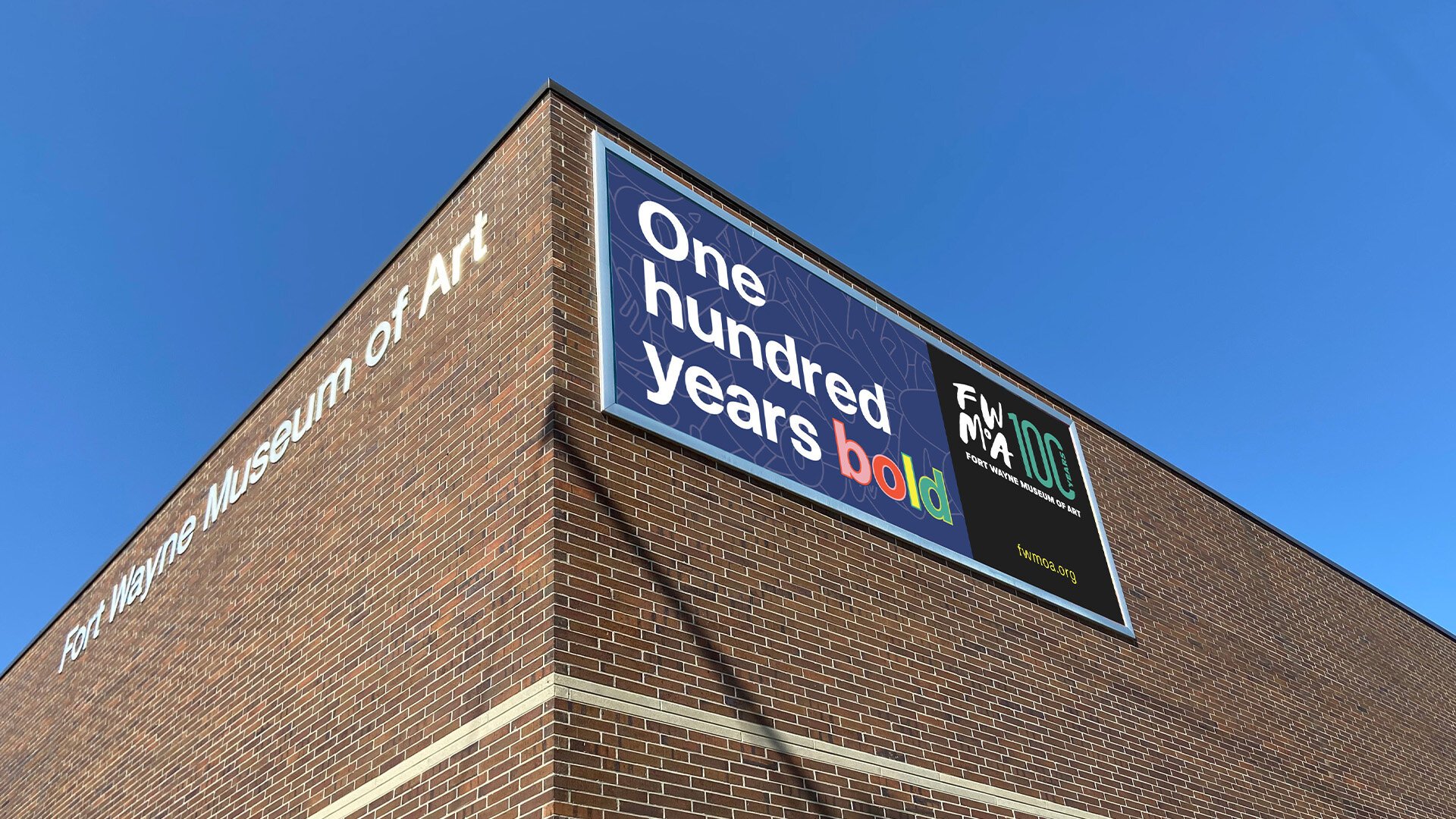 A sign made by One Lucky Guitar for the Fort Wayne Museum of Art.
Input Fort Wayne sat down with three local creative marketing agencies located in Downtown Fort Wayne to learn more about them and their most well-known campaigns.
1. ASHER AGENCY
"Trust, transparency, and communication are of the utmost importance to us, which is a contributing factor to why we've maintained client relationships for so many years. Some clients have been with us for 30+ years."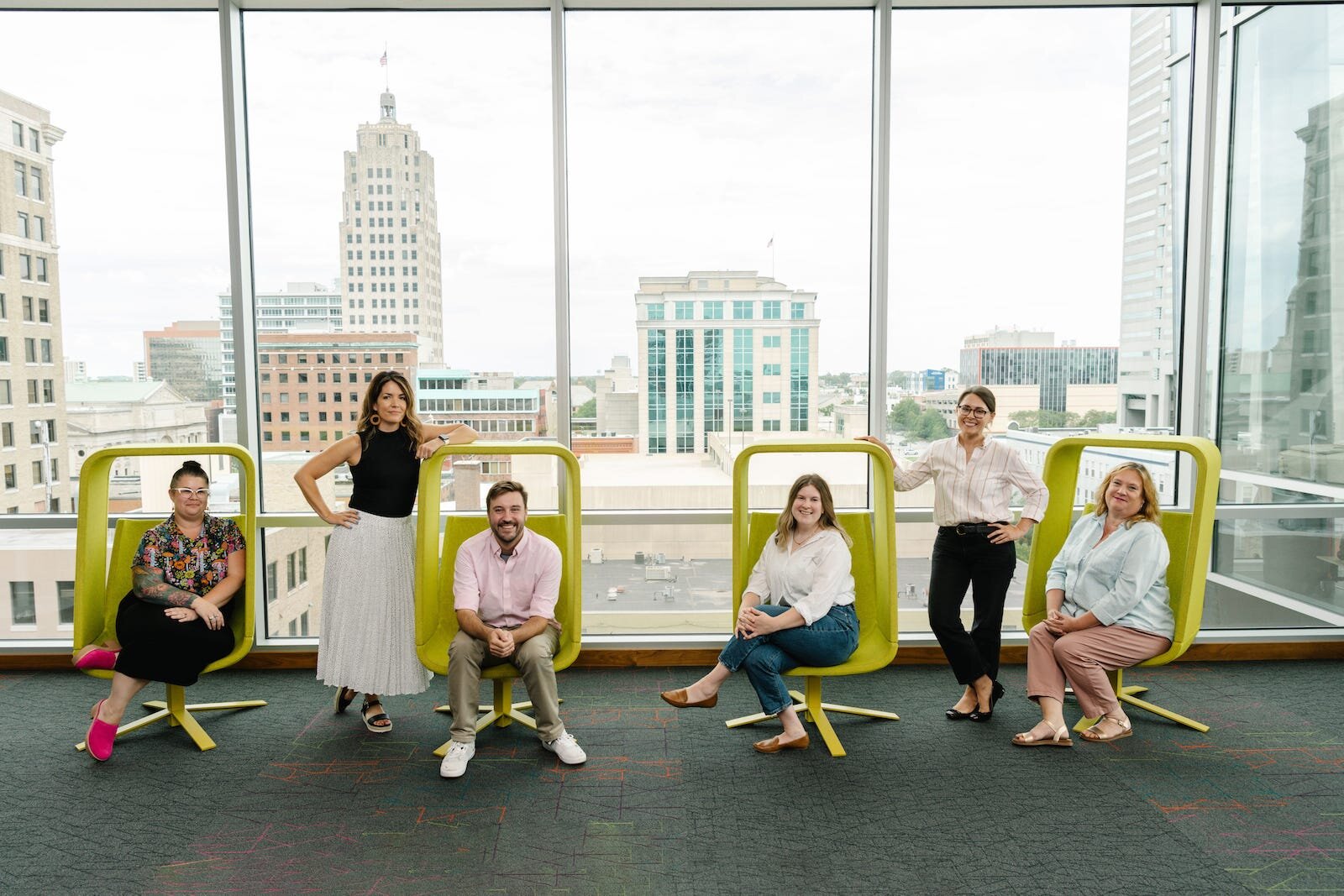 The Asher Agency team.
Founded in 1974 by Tim Borne, the Fort Wayne-based Asher Agency also has offices in Indianapolis, Washington, D.C., and Charleston, W.V. Today, the women-owned business is operated by Kara Kelley, President and CEO, and Megan Benett, CFO.
Kelley says the company focuses on a people-first approach, collaborating with clients to create customized, strategic solutions for marketing challenges.
"Whether we're driving traffic into restaurants, encouraging students to enroll at a university, or incentivizing customers to choose a particular banking institution, everything that we do is measured, monitored, and reported to our clients," she says.
Asher Agency's full-service marketing model offers creative, media, and public relations services. Over the past 10 years, they've evolved to include website development, social media management and digital marketing, too.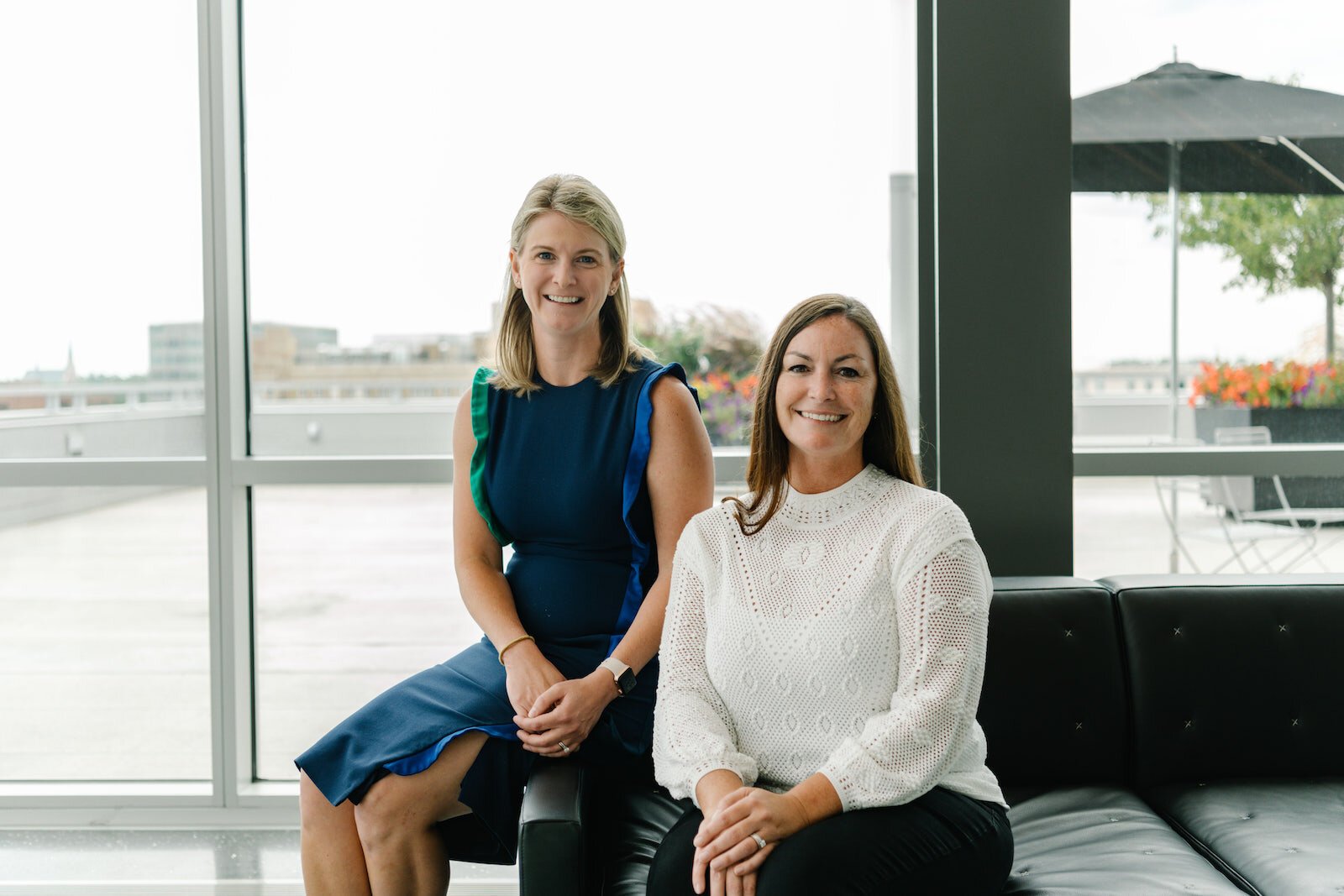 Megan Benett, CFO, and Kara Kelley, President and CEO of Asher Agency.
"We take pride in the work we do for all our clients, both large and small," Kelley says. "On a national level, we pitched and were awarded a creative campaign for Subway Restaurants that was featured across the entire U.S." 
On a local level, you can find Asher Agency works with a number of local, well-known brands.
"Locally, we're proud of our work with the Fort Wayne Airport First, Fly the Fort campaign, as well as our work with Fort Wayne Community Schools on developing the name and branding of Amp Lab," she says. "Our most recent work with Indiana Tech shows off their beautiful campus, as well as their impressive educational opportunities."
Other regional projects include the Indiana Department of Health's campaign on raising awareness about lead poisoning, and Indiana Tech's Go For IT campaign, visible on T.V., YouTube, radio, streaming platforms, social media, and digital ads.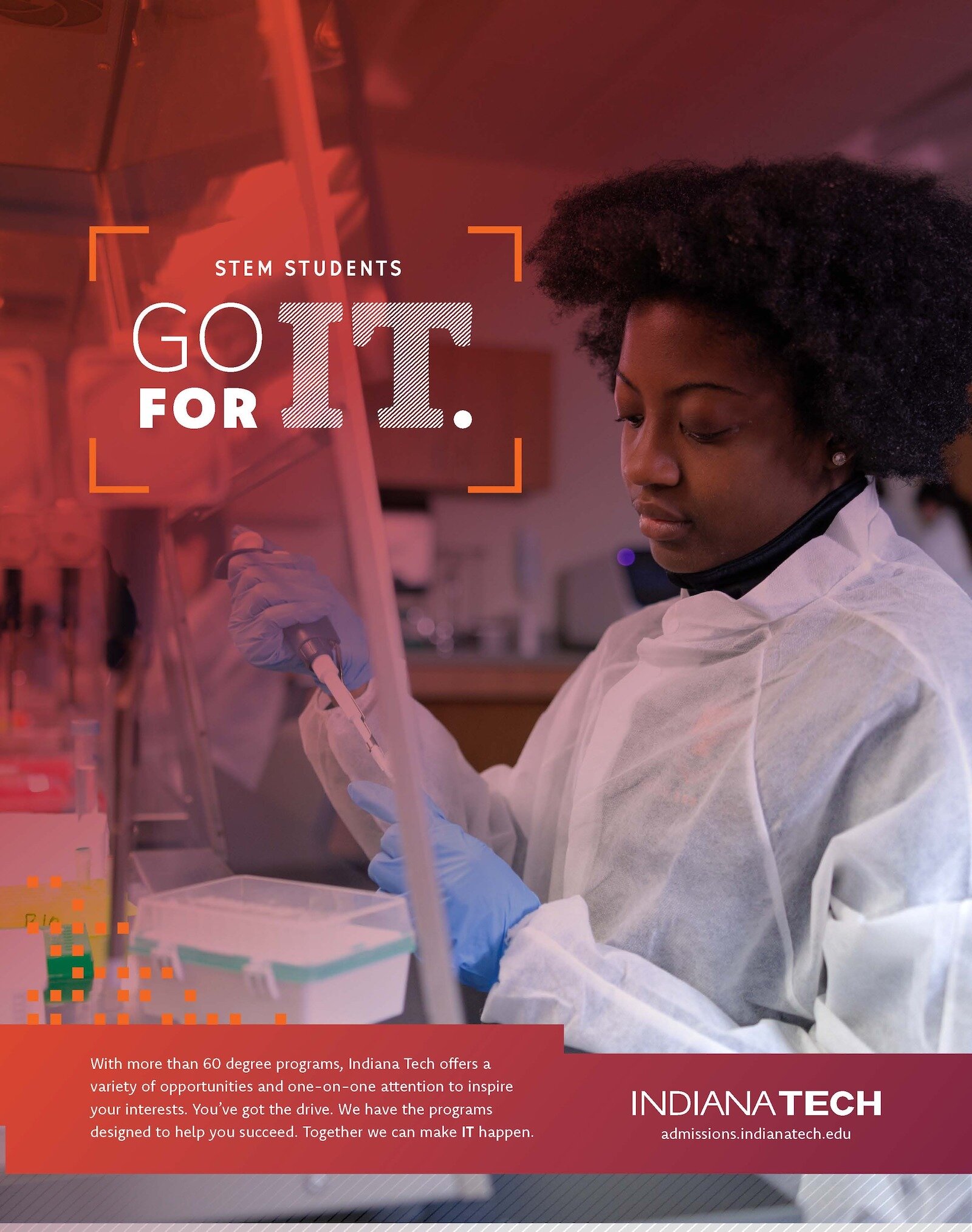 Marketing material made by the Asher Agency for Indiana Tech.
Future projects in the works include national marketing for Self Esteem Brands, the parent company of Anytime Fitness, The Bar Method, Waxing the City, and Basecamp Fitness.
"After nearly 50 years in business, we're proud of our renewed independence and are eager to continue growing our areas of expertise in the categories of franchise/co-op, education, financial services, government relations, and healthcare," Kelley says.
2. BOYDEN & YOUNGBLUTT
"Our team believes in thinking beyond the obvious, taking risks, building relationships based on trust and honesty, digging deep into what makes our clients tick, and fueling our creativity with pot after pot of coffee."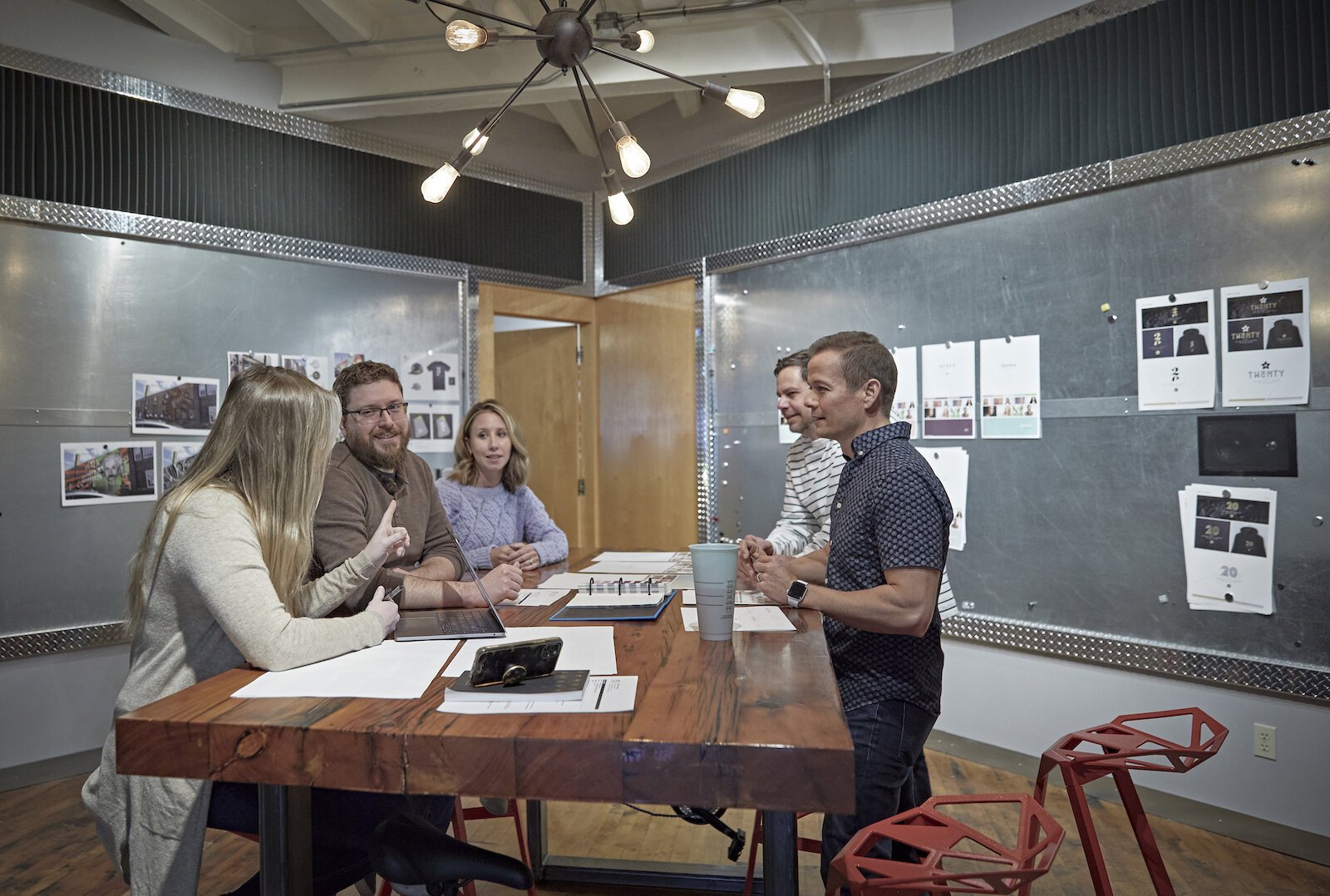 The Boyden & Youngblutt team works together.
In 1990, Boyden & Youngblutt (B&Y) was founded on the belief that marketing should be more than pretty pictures, it should bring real results to a company. B&Y brings Northeast Indiana companies the same high-caliber creative and strategic energy that's found in bigger cities like Los Angeles, New York City, and Chicago. Today, the full-service agency continues to grow, alongside its clients.
"Everything we do is focused on helping our clients 'win,' whether it's more sales, more leads or more followers," says Shardi Carroll, managing partner at B&Y. "By diving deep into the body and soul of who our clients are, we identify the barriers that are keeping them from achieving their goals. We then strategize, create and deploy the right tactics to tell their unique stories and connect with their ideal audiences."
At the start of B&Y, the internet was also a rising star, and the company has witnessed the internet change the way messages are created, sent, and received.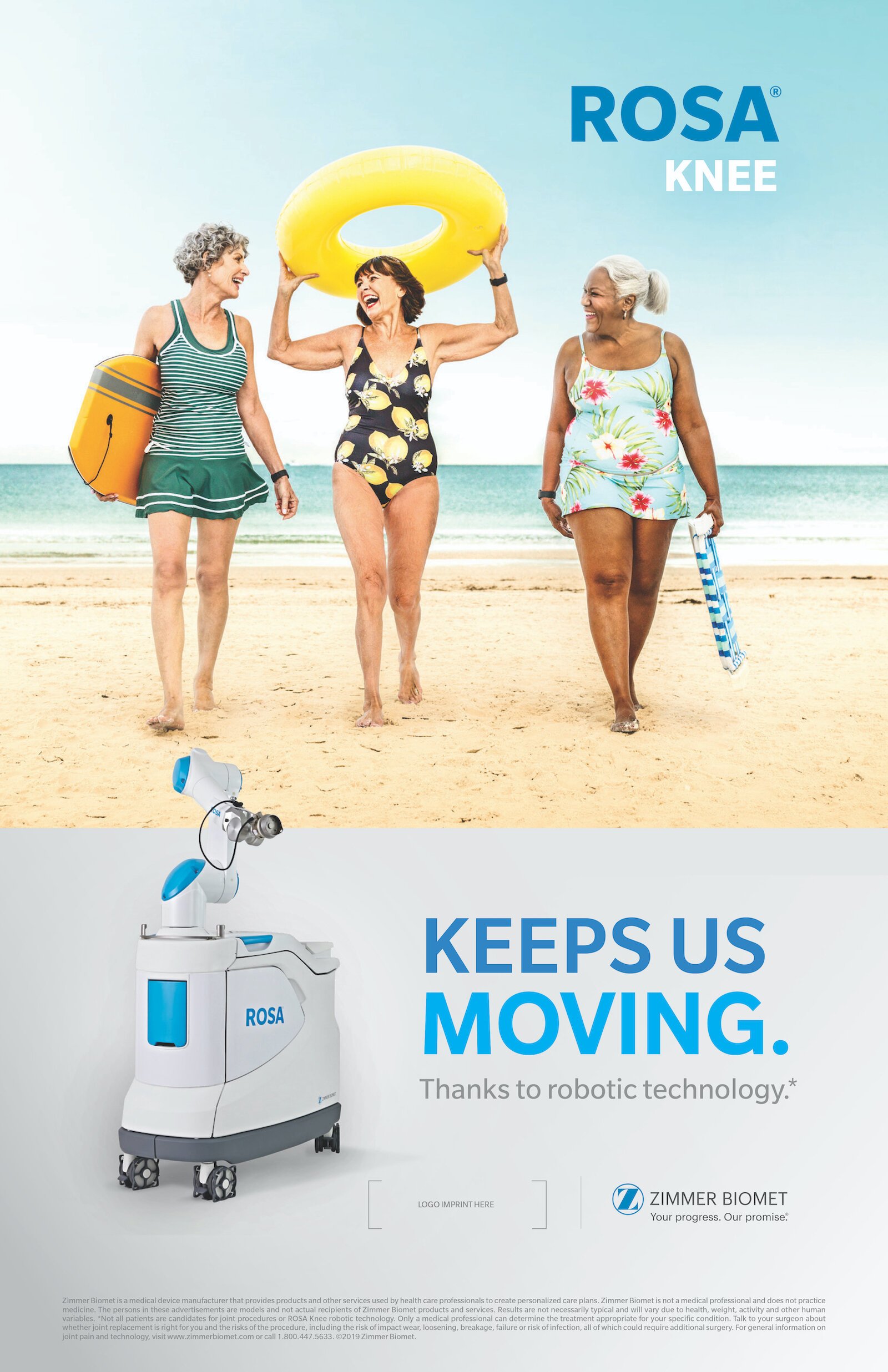 Marketing materials made for Zimmer Biomet by Boyden & Youngblutt.
"Right now, we're diving into the next big change in the marketing industry: artificial intelligence," says Carroll. "It's new innovations like this that challenge us to adapt and make the industry exciting. While we're just experiencing the tip of the iceberg with AI, we're excited to learn how we can utilize this new technology to our advantage — using it as a tool that will allow us to amplify our offering like never before."
Working with clients, both regionally and nationally, to create work representative of their missions and personal stories is at the heart of each B&Y campaign. B&Y is behind many of the Parkview Health Campaigns seen in Northeast Indiana.
"We've worked with Parkview Health to create their consumer campaigns, including the 'I Found' campaign, Parkview GO campaign, Parkview Mom campaign, and many more that people in our region see regularly on the T.V.s, hear on their radios and read in their newspapers," says Carroll. 
B&Y has also created campaigns that have national and international reach.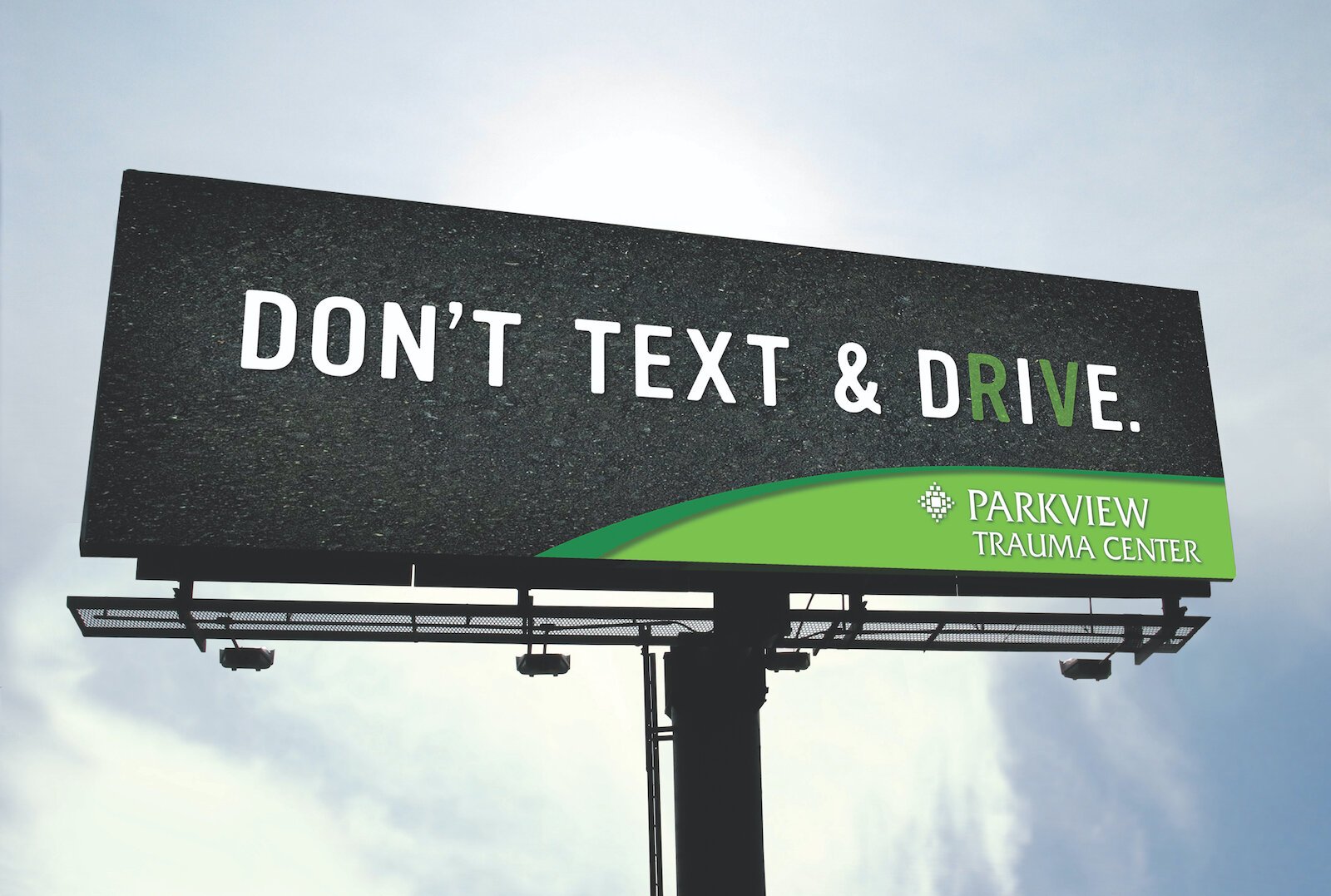 A billboard from Boyden & Youngblutt's campaign with Parkview Health.
"We created the original Don't Text and Drive campaign that has spread internationally and encourages drivers to put down their phones while operating a vehicle," she says. "We've created many national campaigns for Zimmer Biomet, including Rosa Knee, XP Knee, and Less is More. We helped SPAX (an international line of fasteners) develop the brand for their North American market."
Carroll says the full-service marketing agency is nimble, clever, and strategic, but they're much more than that even; they're problem-solvers.
"Our team believes in thinking beyond the obvious, taking risks, building relationships based on trust and honesty, digging deep into what makes our clients tick, and fueling our creativity with pot after pot of coffee," she says.
3. ONE LUCKY GUITAR
"For me personally, I'm driven to continue to provide creative, challenging, purpose-driven opportunities to the 11 OLG'ers I'm so lucky to work alongside."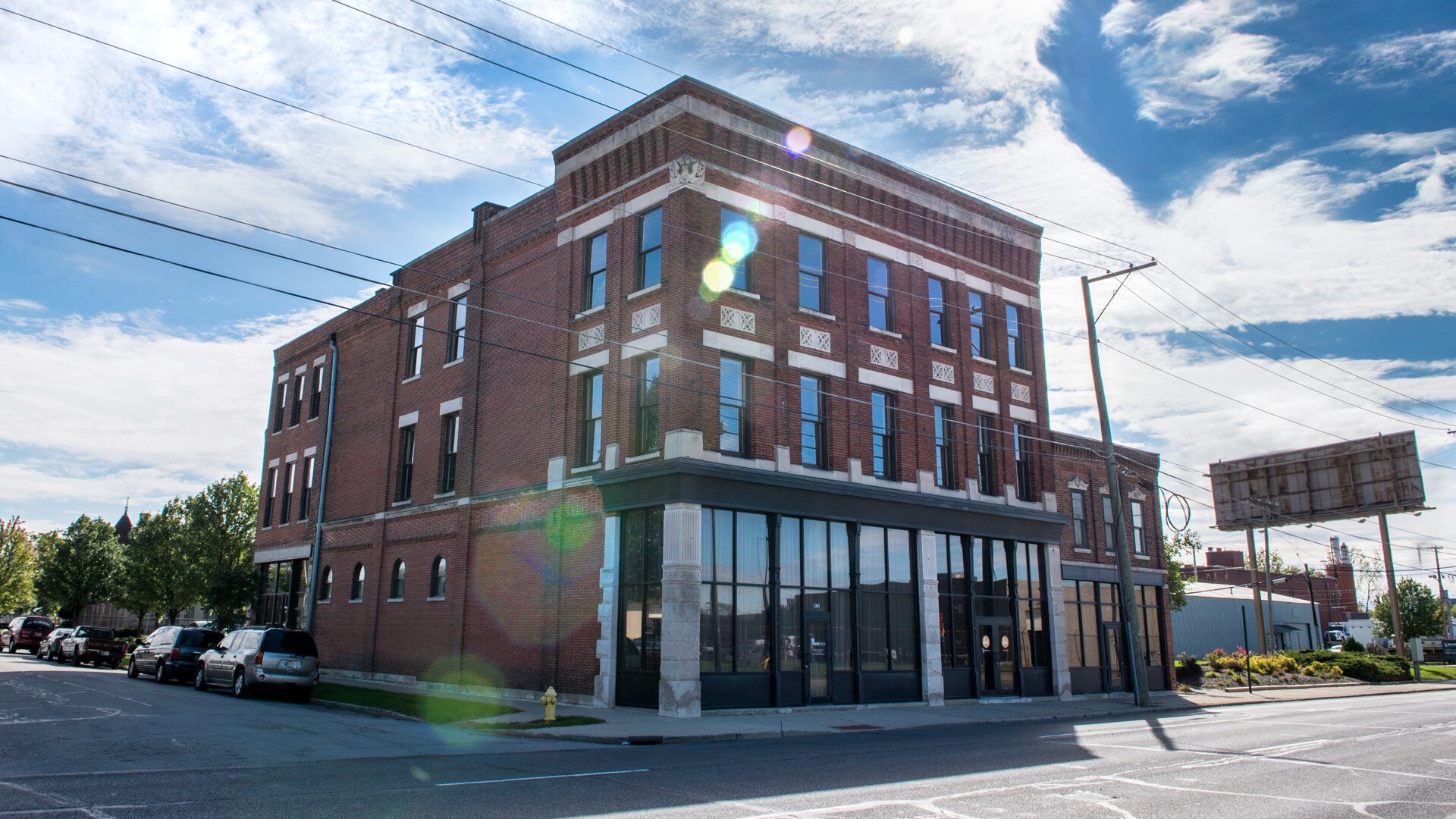 One Lucky Guitar's office.
When Matt Kelley founded One Lucky Guitar back in 2000, the company mainly served clients in the music industry. After expanding to include other arts and culture-centric organizations, and creative-minded startups, One Lucky Guitar (OLG) exists today to communicate brand soul. 
"Wherever brand comes to life for our clients, that's where we seek to be," says Kelley. 
They moved their offices to the near-southeast side of Downtown Fort Wayne in 2005, and are happy to be a part of the community's growth.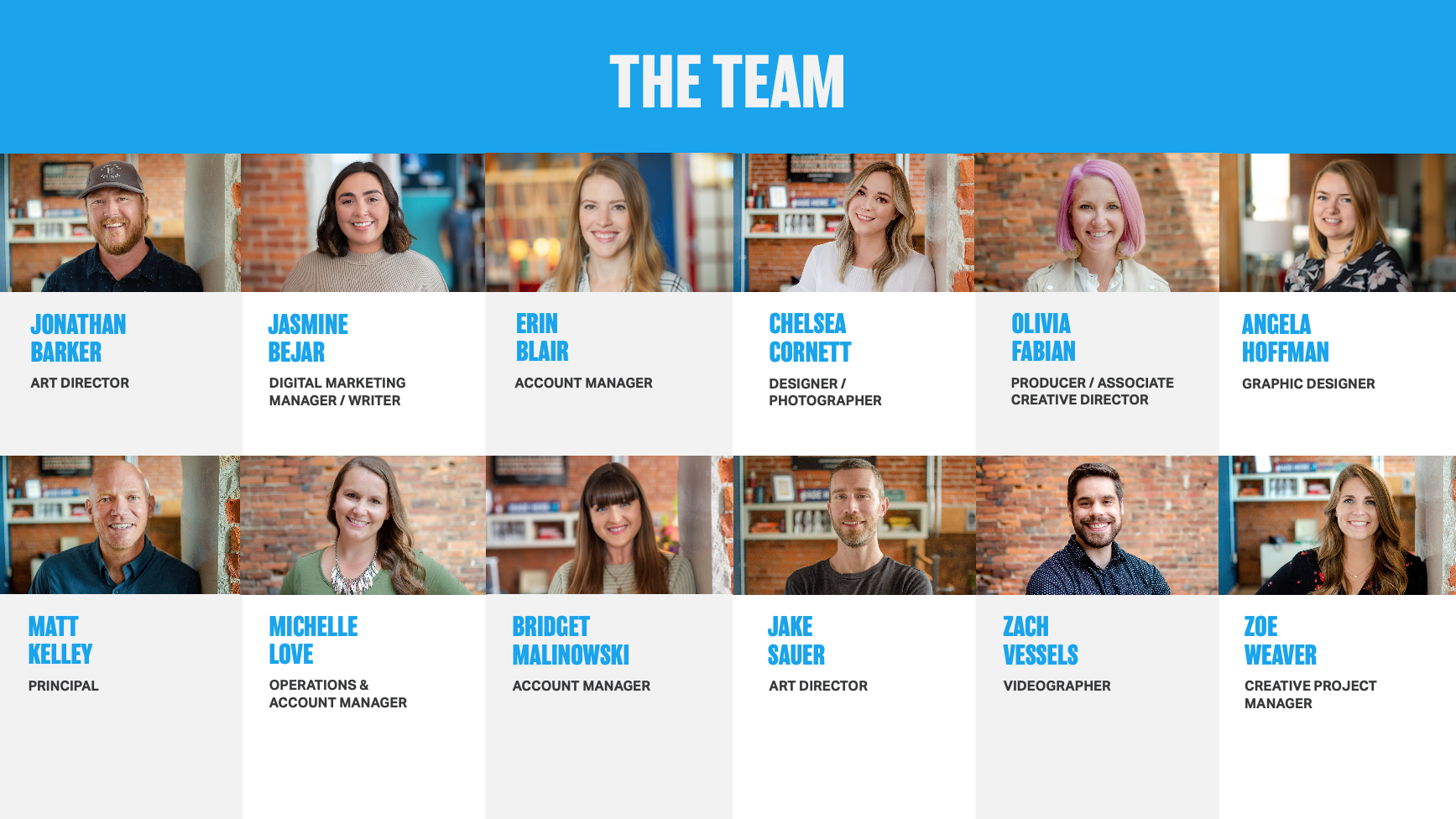 One Lucky Guitar's staff.
Early clients didn't have budgets for traditional advertising, so OLG provided guerilla marketing and used other non-traditional methods to help advocates and ambassadors share their passionate stories.
"These days, that's known as social media and influencer marketing," Kelley says. "We eventually had to learn the traditional ways of doing things; vice-versa was true for agencies who were more focused on those traditional methods."
No matter the medium, One Lucky Guitar's efforts to communicate brand soul endure, says Kelley.
"For me personally, I'm driven to continue to provide creative, challenging, purpose-driven opportunities to the 11 OLG'ers I'm so lucky to work alongside," he says.
OLG has worked with a wide range of community developments including the Riverfront Fort Wayne, The Landing, Arts Campus Fort Wayne, and Fort Wayne Museum of Art.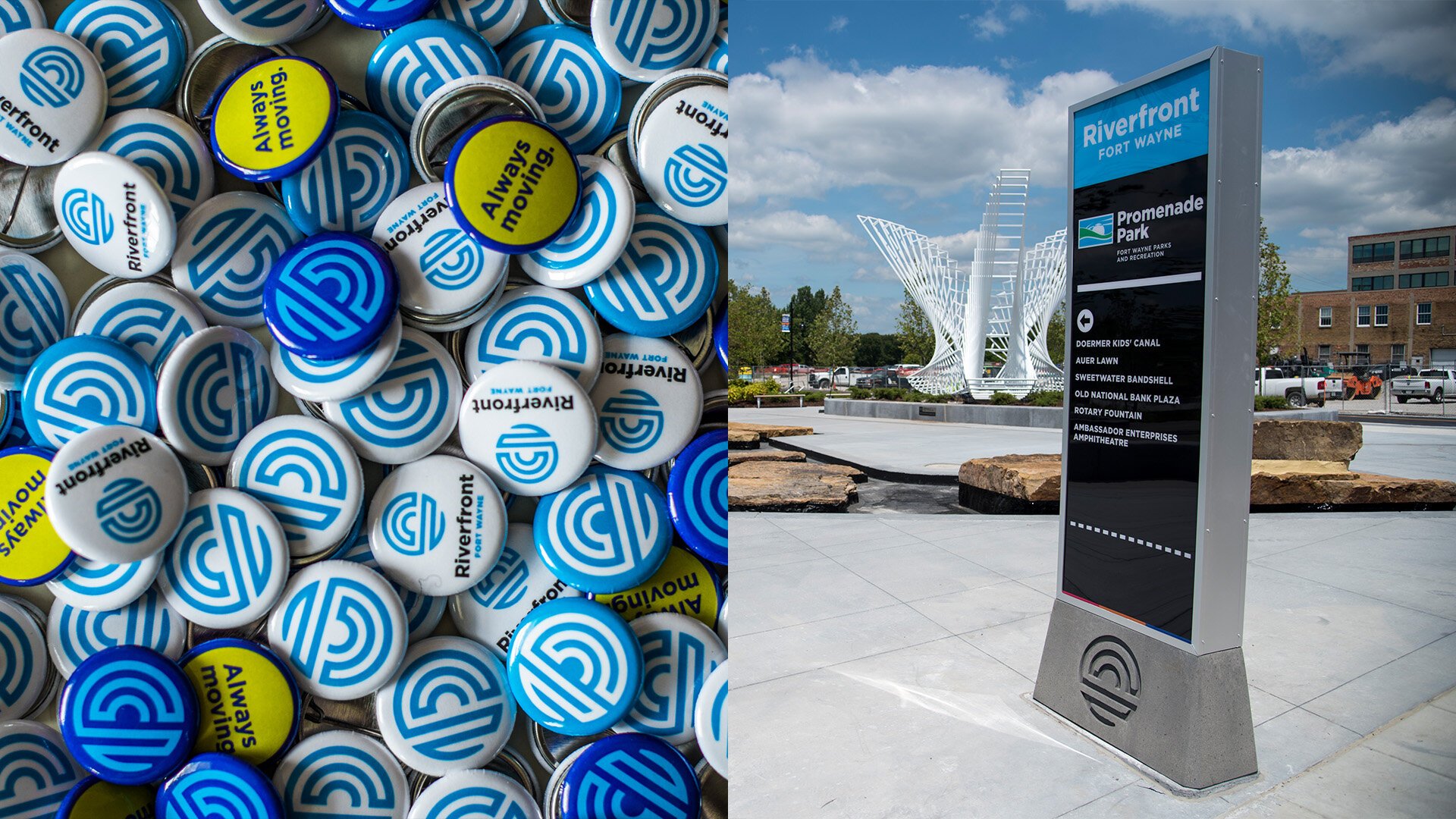 Marketing materials made by One Lucky Guitar for Riverfront Fort Wayne.
"We fiercely support our nonprofit and philanthropic community, and you'll see that with organizations like Healthier Moms & Babies, Hope's Harbor, Humane Fort Wayne, Stillwater Hospice, The Women's Fund, Metro Human Relations Commission, Community Foundation of Greater Fort Wayne, Foellinger Foundation and many more," says Kelley.
OLG enjoys working with corporations with strong missions like Indiana Michigan Power, Benchmark Human Services, Briner Building, and C&A Tool, and has founded events like Middle Waves, Down the Line, The B-Side, and more. 
"We're thrilled to continue to be able to help uplift our community by serving clients who make an irreplaceable impact on those they serve and those they employ," says Kelley.
This story is made possible by support from Downtown Fort Wayne in partnership with Input Fort Wayne.