Like any vibrant downtown, Downtown Fort Wayne is a mix of old and new. The Embassy Theatre, Cathedral of the Immaculate Conception, Elektron Building, Randall Building, Lincoln Bank Tower, and Arts United Center have been around for years and serve a strong functional and aesthetic purpose.
An array of new developments is also making new marks on the city. They include but are not limited to: The Pearl, a mixed-use space on Main Street; The Riverfront at Promenade Park, another mixed-use facility; new additions to the Riverfront; The Wedge, a mixed-use residential building; Star Financial Bank headquarters; The Lofts at Headwaters Park; Lutheran Downtown Hospital; and The Bradley hotel.
Fort Wayne was founded in 1794 and was incorporated as a city in 1840—Downtown and other parts of the city have expanded and evolved over the years. They have formed and are still forming a cohesive whole.
But that's not to say that the city's growth has been or should be without strategy. It is not an accident that many older buildings in Fort Wayne have stood the test of time, that new developments are being built to last, and that there is synergy between old and new.
Integrating and Blending Are Important
David Arnold, Managing Director and Principal of Great Lakes Capital, gives an example involving two newer buildings, Skyline Tower and Ash Skyline Plaza, both of which are part of the Harrison Street corridor. Great Lakes Capital developed Skyline Tower, which was constructed after Ash Skyline Plaza.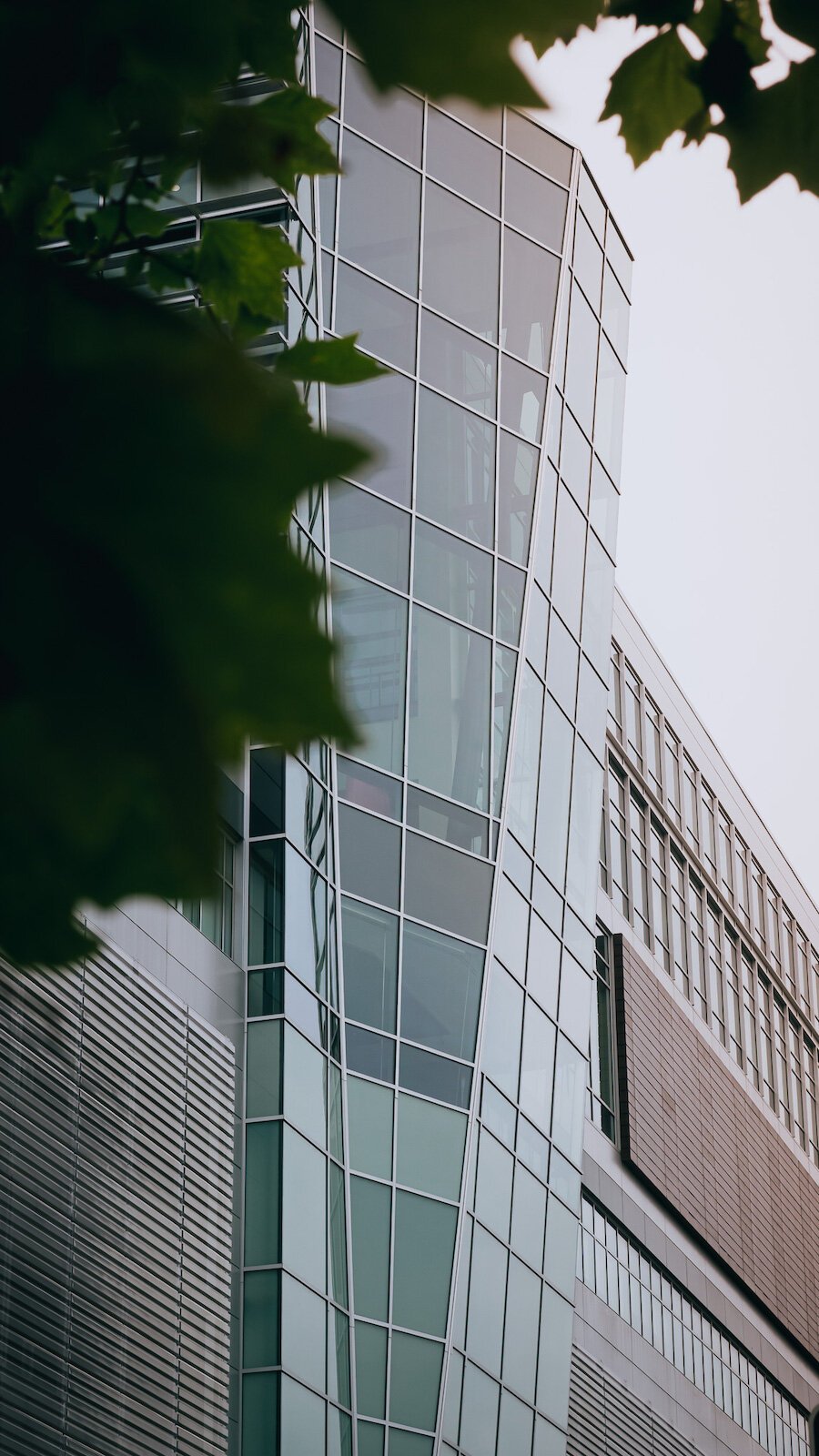 "We knew, first and foremost, that it was important to animate a vision for the redevelopment of the Harrison Street corridor," says Arnold.
A key way for doing that was to ensure that Skyline Tower complemented its neighbor, Ash Skyline Plaza, and that it blended in with the rest of the buildings on that stretch of Harrison Street.
"We didn't have to look exactly like the Ash; we just needed to use enough of some of its elements to make it associated without it being a twin," he says.
That complementary component is a major way for a building, and a neighborhood of buildings, to remain vital for years to come. Using Skyline Tower again as an example, Arnold says, "We even paid attention to what the outline of our windows looked like as compared to some of the other windows around us. You wouldn't necessarily notice it if you're just walking down the street, but if we put in mirrored glass, for example, you would notice that it was very different."
"We have to try to be sensitive to the overall picture," says Arnold. "It's a challenge because there are always going to be exceptions to how things are done."
Connie Haas Zuber, Executive Director of ARCH Inc, points to Parkview Field and The Harrison as two examples of newer buildings that have effectively melded into their neighborhoods.
Details on the Embassy Theatre."The designers of those projects looked at the buildings around them to help them choose the materials they used and the scale and scope of things," she says. "That really helps the projects work and be a welcome addition to that part of downtown."
The City of Fort Wayne has even come up with a Downtown Design Manual, which communicates to developers expectations for materials used, setback distances, and more.
The Big Picture
Complementary synergy, however, is far from the only strategy to help buildings endure with vitality for decades into the future. Specific to a downtown is the impression a building gives at street level because that's where pedestrians are.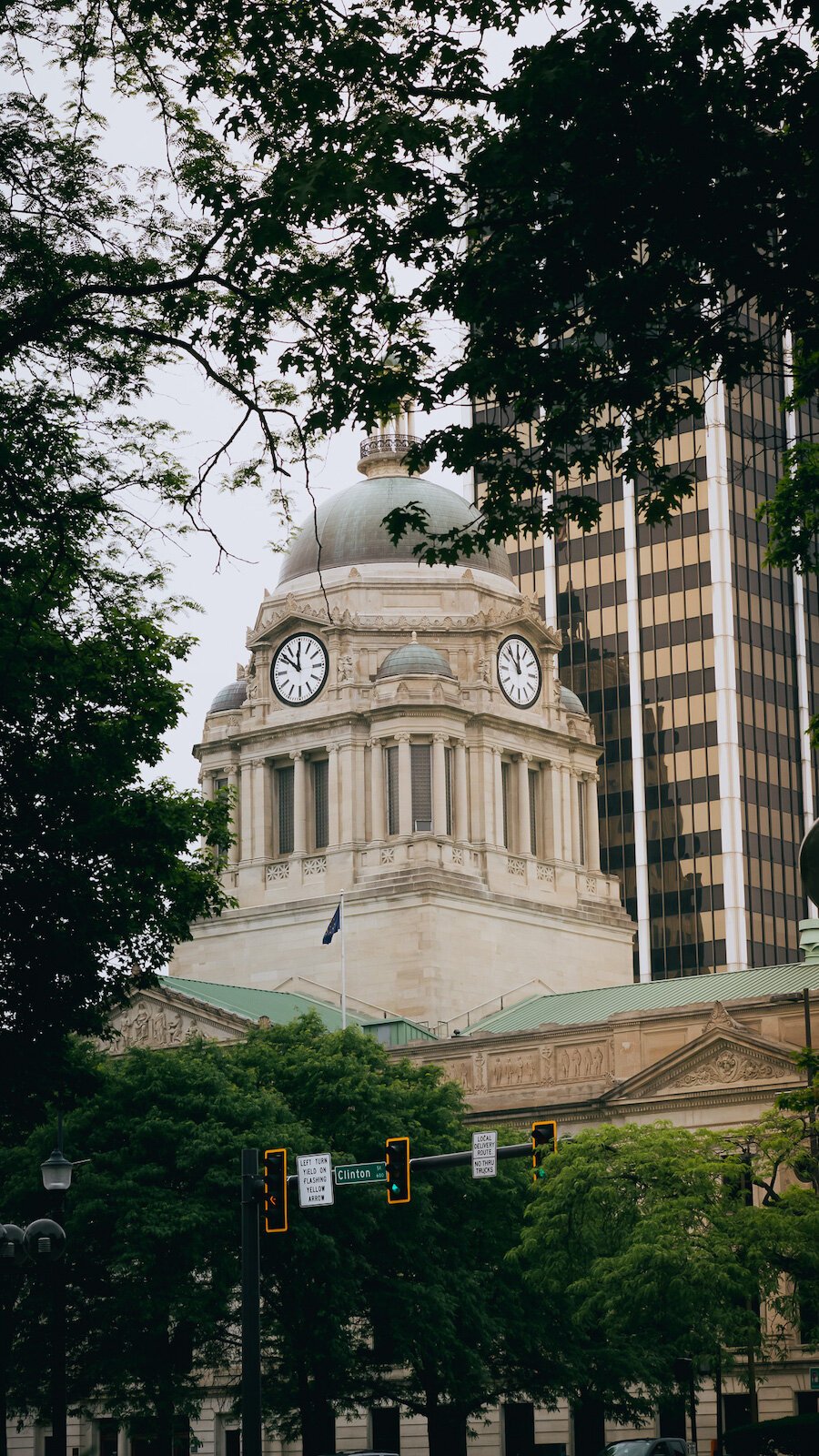 "In downtown, the first thing you have to think about is the pedestrian relationship to your building," Arnold says. "You have to think through your street presence and then also understand what it is you want it to look like on the upper levels."
Considering the height and width of nearby buildings is also imperative, says Arnold. A horizontal-focused building, even though it may be many stories high, will look squatty if built next to a tall skyscraper. On the flip side, a building that has only vertical elements may look unfinished, like it never ends.
"There's an art to blending vertical and horizontal elements," he says. "You have to mix them well so they don't fight with each other."
Another strategy to help buildings and, by extension, districts and neighborhoods last is the selection of building materials. 
"It is not necessary to use exactly what was used 100 years ago because in many ways that's terribly impractical, but to the extent we can, we want to complement the building materials around us," says Arnold.
Both Old and New Are Valuable
Dodd Kattman, Principal at MKM Architecture + Design, is no stranger to injecting new life into older buildings. MKM designed the expansion of the Fort Wayne Museum of Art and is currently working on renovations and expansion of the Arts United Center. MKM's offices are housed inside a repurposed old warehouse on Brackenridge Street.
While complementarity is important, Kattman believes that new buildings should reflect the designs and styles of the present.
"When working among historic buildings, you match the rhythms of the old buildings regarding, in many cases, the general forms and scale, but you need to make new buildings representative of their time," he says. "That's how you keep things fresh."
Kattman also says that having a healthy mix of old and new buildings provides energy to a place.
"In general, people like to work, live, and play in areas that have a mixture of new buildings and old buildings," he says. "If you look at the vibrancy in the development of Downtown Fort Wayne, you'll find that some of the most exciting places have a mix of contemporary buildings and historic buildings. All of those contribute to who we are and to a wide variety of tastes."
Just because a building is old does not necessarily make it worth saving, Kattman stresses. Location and quality are far more important than age, he says.
"We all know a lot of old buildings that have served out their useful life but don't have much of a purpose, and we all know of others that add great vibrancy to the neighborhood they serve," he explains. "It's the story that they tell about our past and our future."
Refurbishing and Repurposing
Michael Galbraith, President of The Downtown Improvement District, has a deep appreciation for all the buildings in Fort Wayne, old and new, that give the city its uniqueness. In addition to the previously mentioned Embassy Theatre and Lincoln Bank Tower, Galbraith counts as significant landmarks the Allen County Courthouse and Baker Street Station.
"All those buildings date to a similar period in the 1920s [before that for the Baker Street Station]. That was a period when Fort Wayne was really at a high mark, and so we had a lot of growth happening in Fort Wayne," Galbraith says. "We're entering a similar period right now. It's nice to see some of these new buildings come into downtown."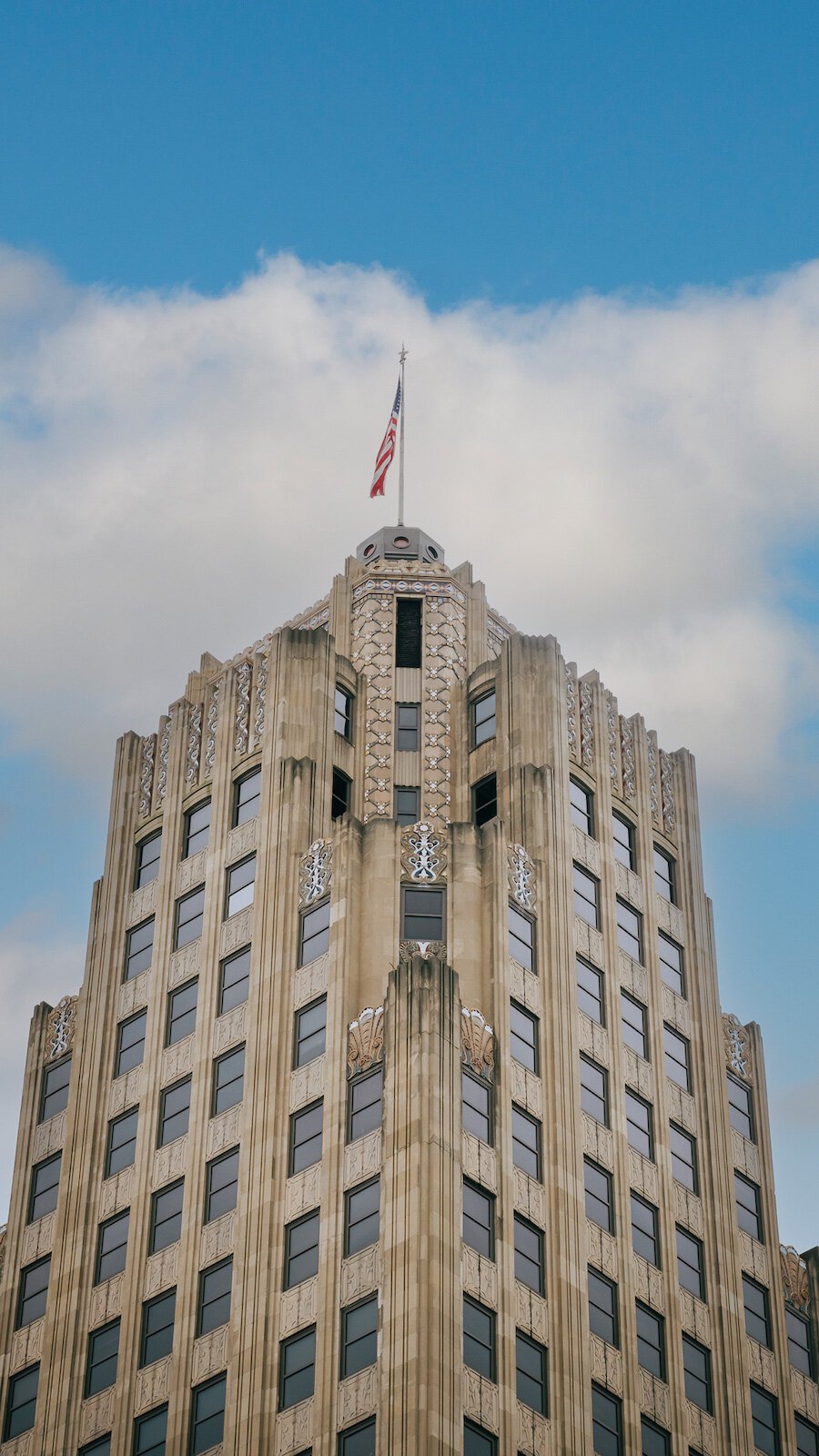 Galbraith echoes others in saying that effectively integrating new buildings among old buildings is important and that this can be achieved with similar street setbacks, similar sizes, and similar materials.
"An example of integration is something like The Landing," Galbraith says. "They did a phenomenal job in taking new buildings and integrating them with the rhythm and the size and the massing with the old buildings that still remained."
Repurposing older buildings is also a great way to keep them viable for many years to come, says Galbraith. He gives examples of the Anthony Wayne Building Condominiums, at which Fort Wayne architecture firm Design Collaborative converted a 1960s office building into a residential tower; and the Randall Lofts, which used to be a storage building and is now home to residences. He also points to Electric Works, a refurbished and repurposed building that now includes a food hall, residences, workspaces, and more. "To have these buildings repurposed and reused is kind of a once-in-a-generation save," he says.
Keeping the Unique Character of Downtown Fort Wayne
Zuber says that both old and new buildings in Fort Wayne are valuable for different reasons.
The Lincoln Bank Tower"We need the new because we need to grow, and if Fort Wayne is going to become an ever-bigger city, we need ever-bigger buildings. But we need the old because we need to be Fort Wayne. If we only had new, we would be in danger of just looking like any place and looking like every place and not being our unique and attractive and engaging self."
"The combination of the stories, identity, and uniqueness of Fort Wayne with what we need for the future is what will enable the city to continue to be viable and successful into the future," she says.
This story is made possible by support from Downtown Fort Wayne in partnership with Input Fort Wayne.