As Downtown Fort Wayne grows, you might be wondering what it's like to live there. While there's no substitute for actually moving to the city center, you can get a taste of the experience by taking a staycation Downtown. 

Whether you're in need of a weekend getaway or just a chance to see Fort Wayne from a different perspective, Downtown has many hotels and B&Bs to choose from.

Here's a quick look at what each space has to offer, and how you might create your own experience.
For the Instagrammers and outdoor adventurers…
Stay at: The Bradley at 204 W Main St.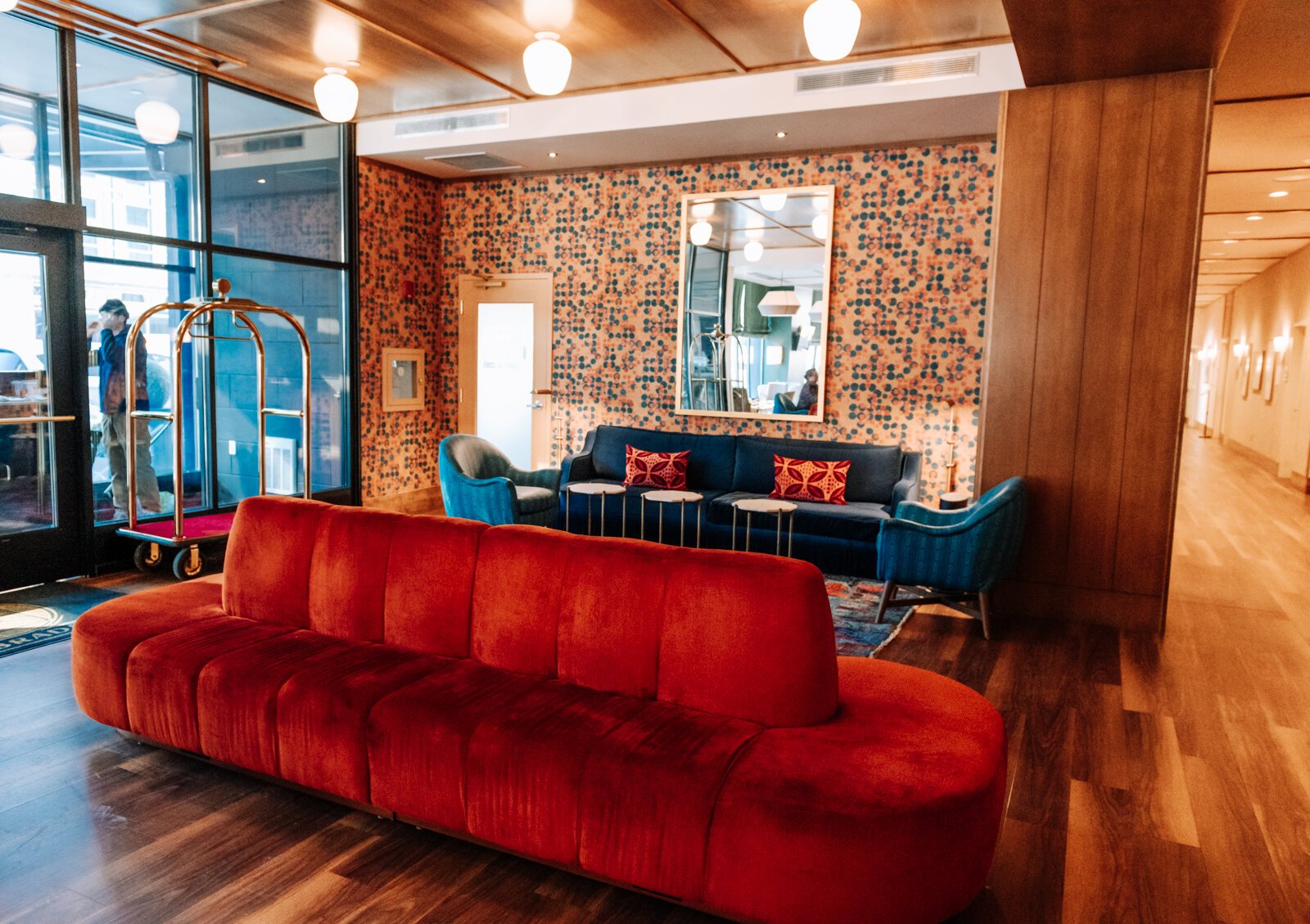 The Bradley is one of Fort Wayne's newest hotels and the city's only boutique hotel experience.

Why? The Bradley is one of Fort Wayne's newest hotels and the city's only boutique hotel experience. Dreamed up by Vera Bradley's Co-Founder Barbara Bradley Baekgaard, it offers a stylish stay, ideal for Instagram pics and TikToks. Its colorful wallpaper provides eye-catching backdrops, and its rooftop cafe, Birdies, offers a fun place for dinner and drinks with fire pits and skyline views. You can also grab breakfast at Arbor in the Main Lobby, or take a quick walk to The Landing and Promenade Park nearby for coffee, meals, shopping, and year-round activities in the great outdoors.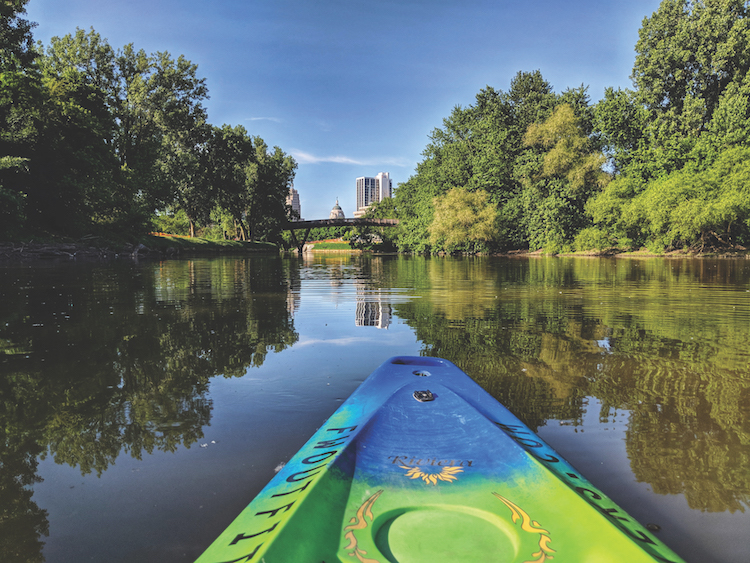 Hit the rivers with gear from Fort Wayne Outfitters.
 
We recommend: Stopping by Fort Wayne Outfitters on the riverfront, and gearing up to hike or bike the trails, or rent a kayak on the river (in warmer months). There's also lots of dining and shopping at The Landing, from Urban Hippie and House to Home to Utopian, Mercado, Marquee, Alto Grado Pizza, Tolon, Kanela, and more.

Want more places to explore? Walk across the historic Wells Street Bridge in Promenade Park, and check out the shops and eateries along the historic corridor there.
 
For the sports fans and foodies…
Stay at: Hampton Inn & Suites at 223 W. Jefferson Blvd. or Courtyard by Marriott at 1150 S. Harrison St.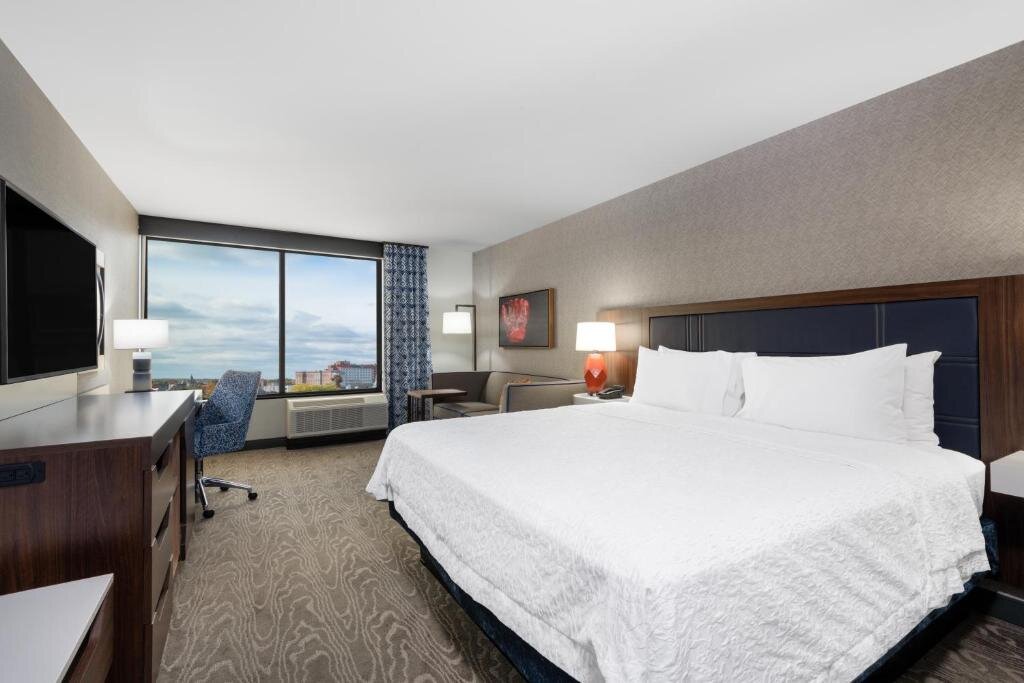 Why? Speaking of skylines, the Hampton Inn Downtown has some of the coolest views of the city at its Conner's Rooftop Bar, which overlooks the TinCaps at Parkview Field and Jefferson Blvd. This hotel is one of the city's newer accommodations with modern comforts and lots of local touches.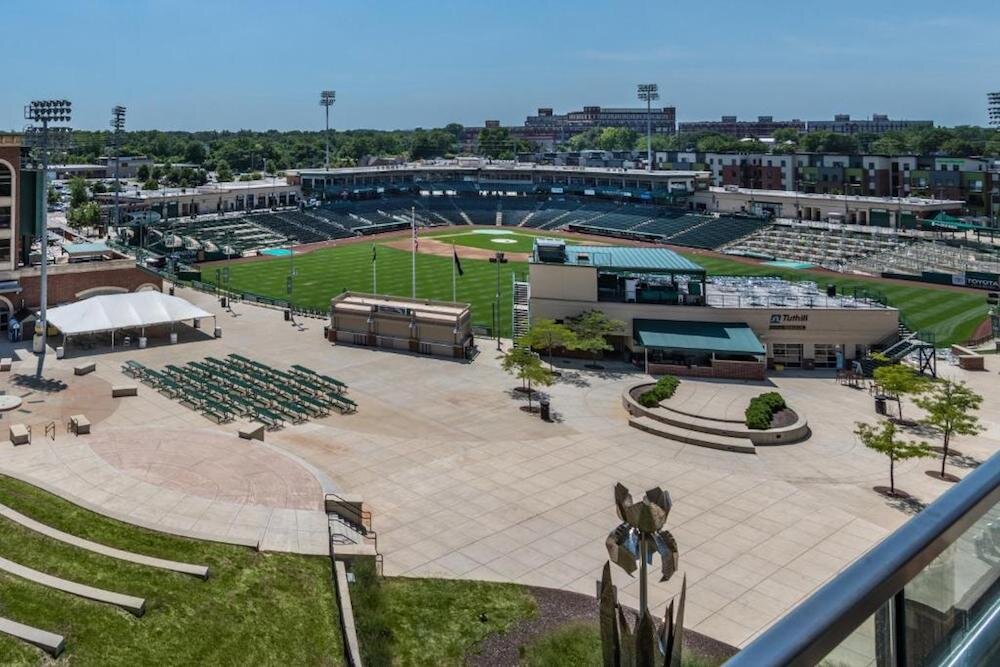 Snap your photo next to Johnny Appleseed near the front entrance (and steal his apple, if you're lucky). If you want an extra special experience, plan your visit after a night of watching the Tincaps at Parkview Field, or catch the game from Connor's Rooftop balcony. 

Nearby, at Courtyard by Marriott, you can get an equally fun experience in the heart of Downtown, (with an indoor pool). It's also connected to the Grand Wayne Convention Center, in case you're visiting for a conference there.
Courtyard by Marriott in Downtown Fort Wayne.


We recommend: Making a night of it by hitting up multiple local spots for a progressive dinner capped with some of the city's best craft cocktails. King Gyros, Burger bar, O'Reilly's Irish Bar, Conner's Restaurant and Rooftop, Rudy's Cigar Shop, and Copper Spoon are all within walking distance. You can easily enjoy an entire night of food, cocktails and late-night snacks without having to drive anywhere.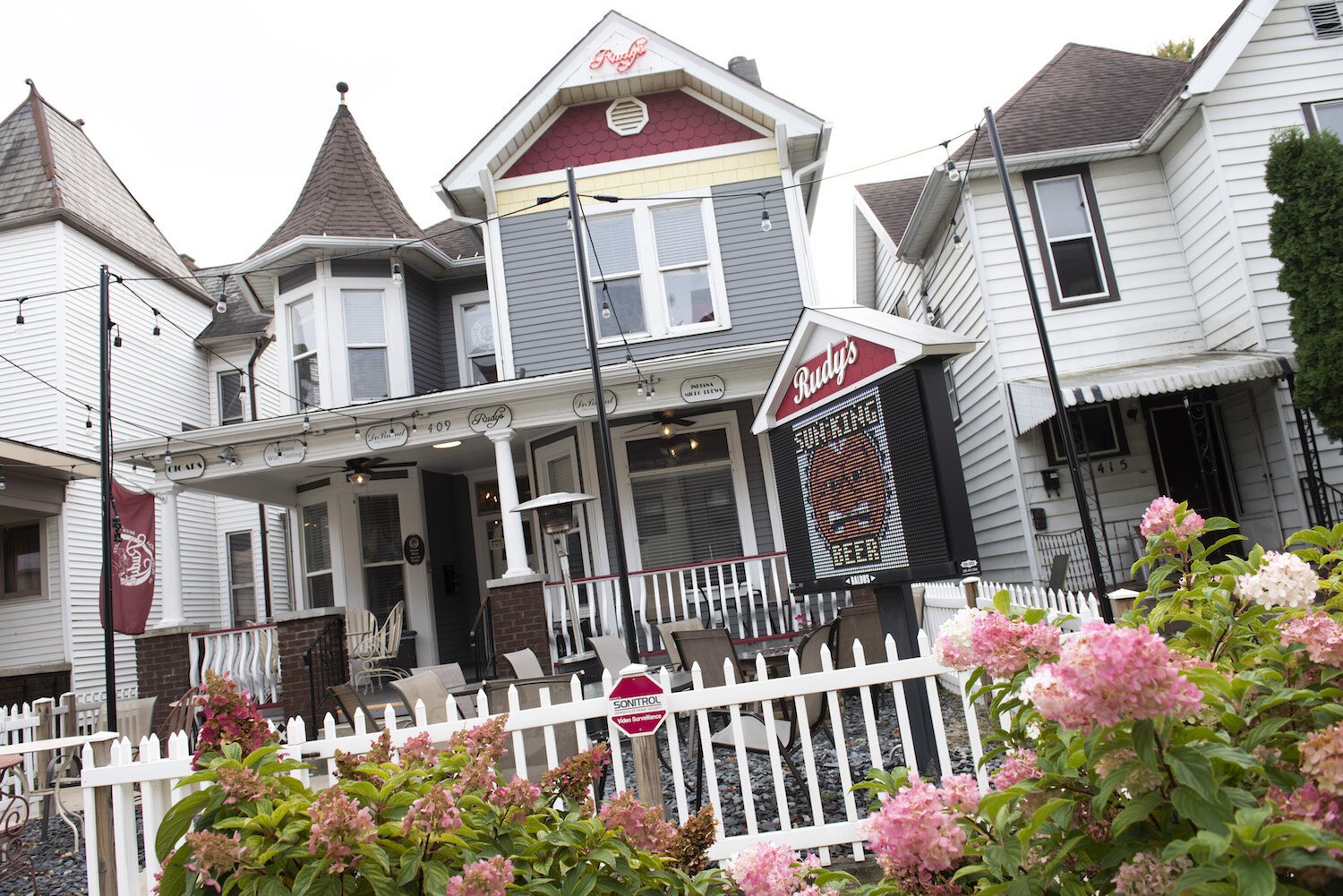 Rudy's Shop for craft cigars, wine, beer, and chocolate is a short walk from the Hampton Inn and Courtyard at Marriott.


The morning after? Stroll the greenery at the Botanical Conservatory nearby and grab a coffee or latte to go at Conjure's cafe inside.
 
For the classic and vintage aficionados…
Stay at: Hilton at Grand Wayne at 1020 Calhoun St. or La Salle Guest Houses at 519 Washington Blvd.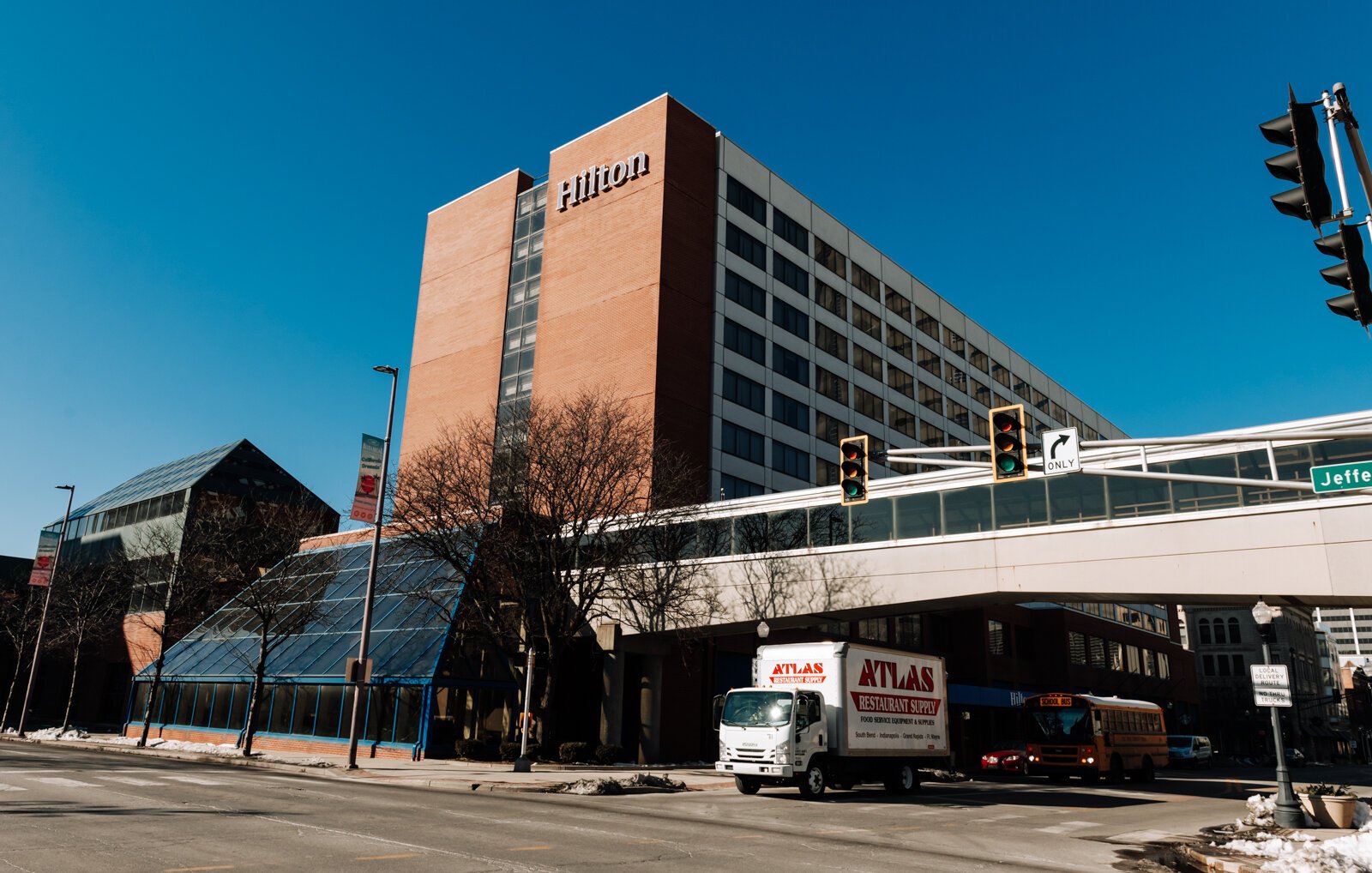 The Hilton at 1020 Calhoun St. has a sunroom on the side filled with light and plants.


Why? The Hilton is one of Fort Wayne's most iconic hotels. It's also attached to the Grand Wayne Center, so if you're in town for a conference or special event, you don't have to go far to get to your destination. You also have easy access to a covered parking garage, the historic Embassy Theatre, and the Botanical Conservatory. This might be the most "classic" Fort Wayne you can get. While you're there, be sure to enjoy the ambiance of its first floor sunroom along Jefferson Blvd., filled with live plants and sunlight.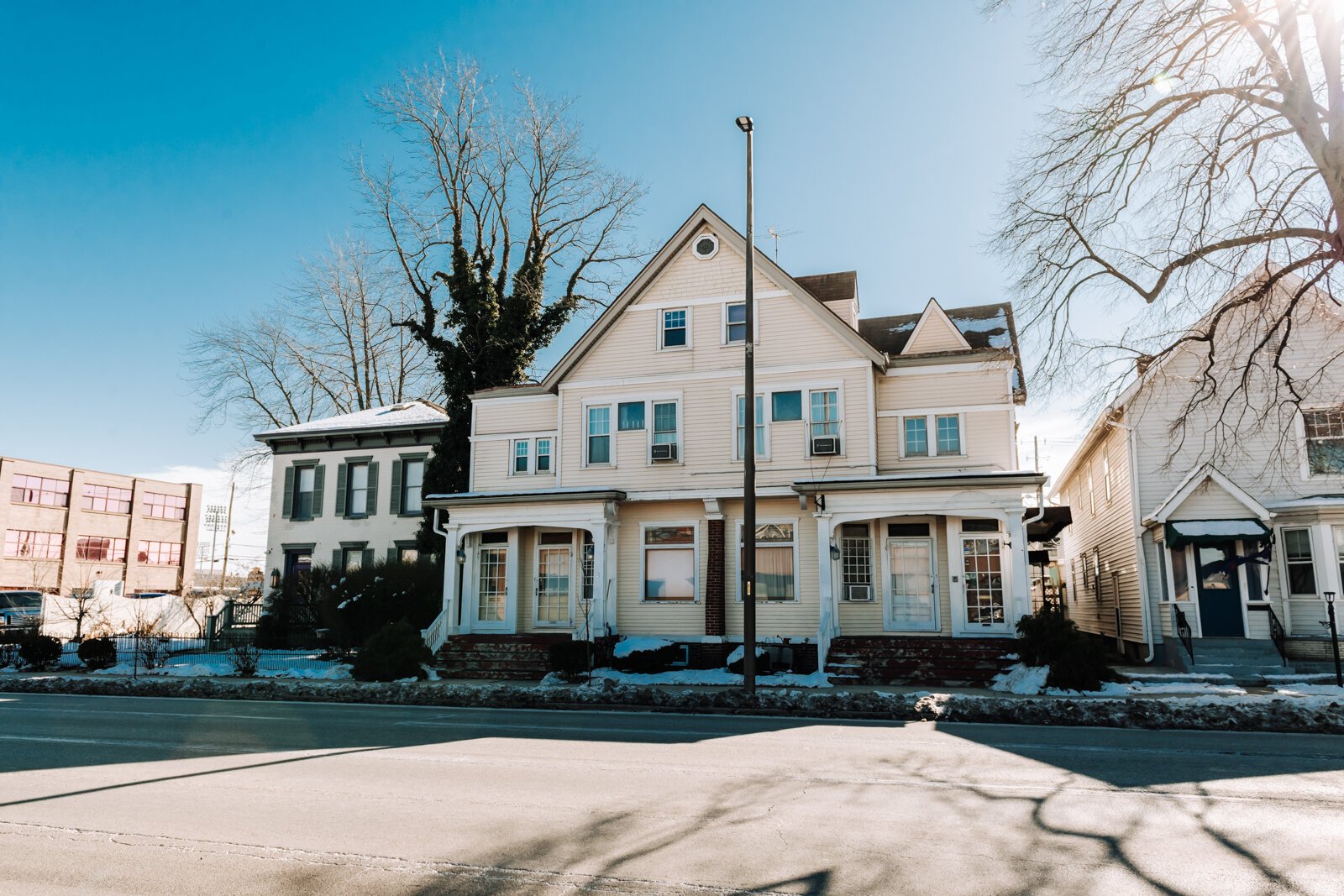 Exterior photos of the Sion Bass House, left, and the Thomas Snook House, right, of LaSalle Guest Houses.


Looking for something more intimate? The La Salle Guest Houses offers a variety of Civil War-era accommodations at two historic buildings in the heart of Downtown: The Sion Bass House at 509 Washington Blvd. and the Thomas Snook House at 517 Washington Blvd. The Bass house offers multiple rooms with two-person jacuzzis and steam showers, including one with wheelchair access. Many rooms are named for significant War-era figures with ties to Fort Wayne. Both houses are owned by West Central resident Mike Anderson whose passion for historic buildings has led him to preserve and manage more than 60 properties in the Downtown area.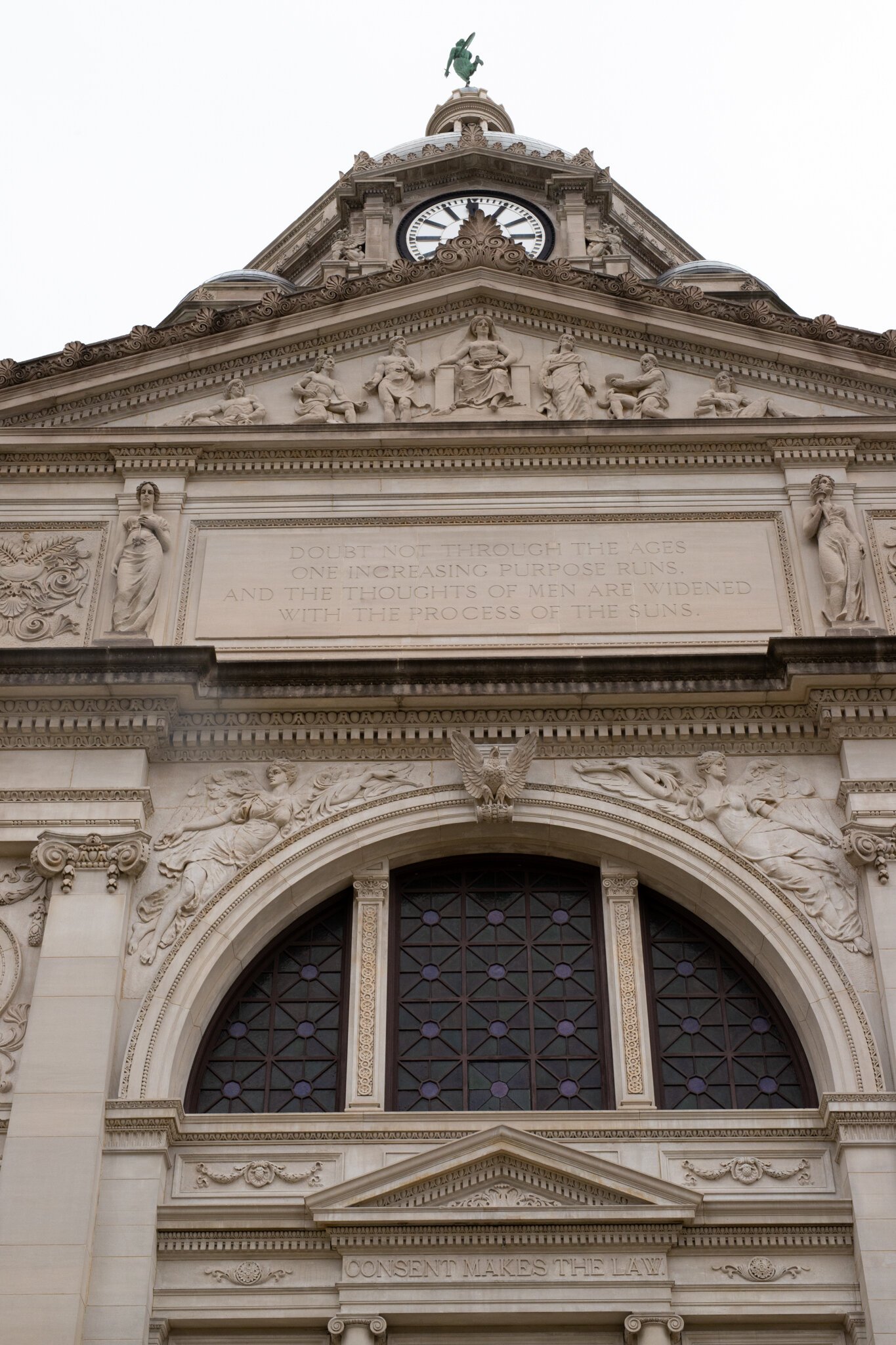 A few exterior sculptures on the Allen County Courthouse.

Love historic architecture? Anderson recommends walking a few blocks to stroll the exterior of the Allen County Courthouse. "You don't even have to go past security; just go outside, and look up," he says. "You'll see five pieces of art every 10 feet."

We recommend: Taking a short walk from either of these accommodations to view some of Downtown Fort Wayne's classic architecture, and sample its dining experiences. Start the morning off at Cindy's Diner (order the garbage plate). Maybe grab a bite to eat at Pint & Slice on Calhoun or Dash-In next door, too. Stroll the historic West Central Neighborhood nearby, grab a scoop of ice cream at Brooklyn Pints, and wave to everyone sitting on their front porch. While you're there, stop at the Castle Gallery to see some art. You might even be able to catch a play at the Arena Dinner Theatre.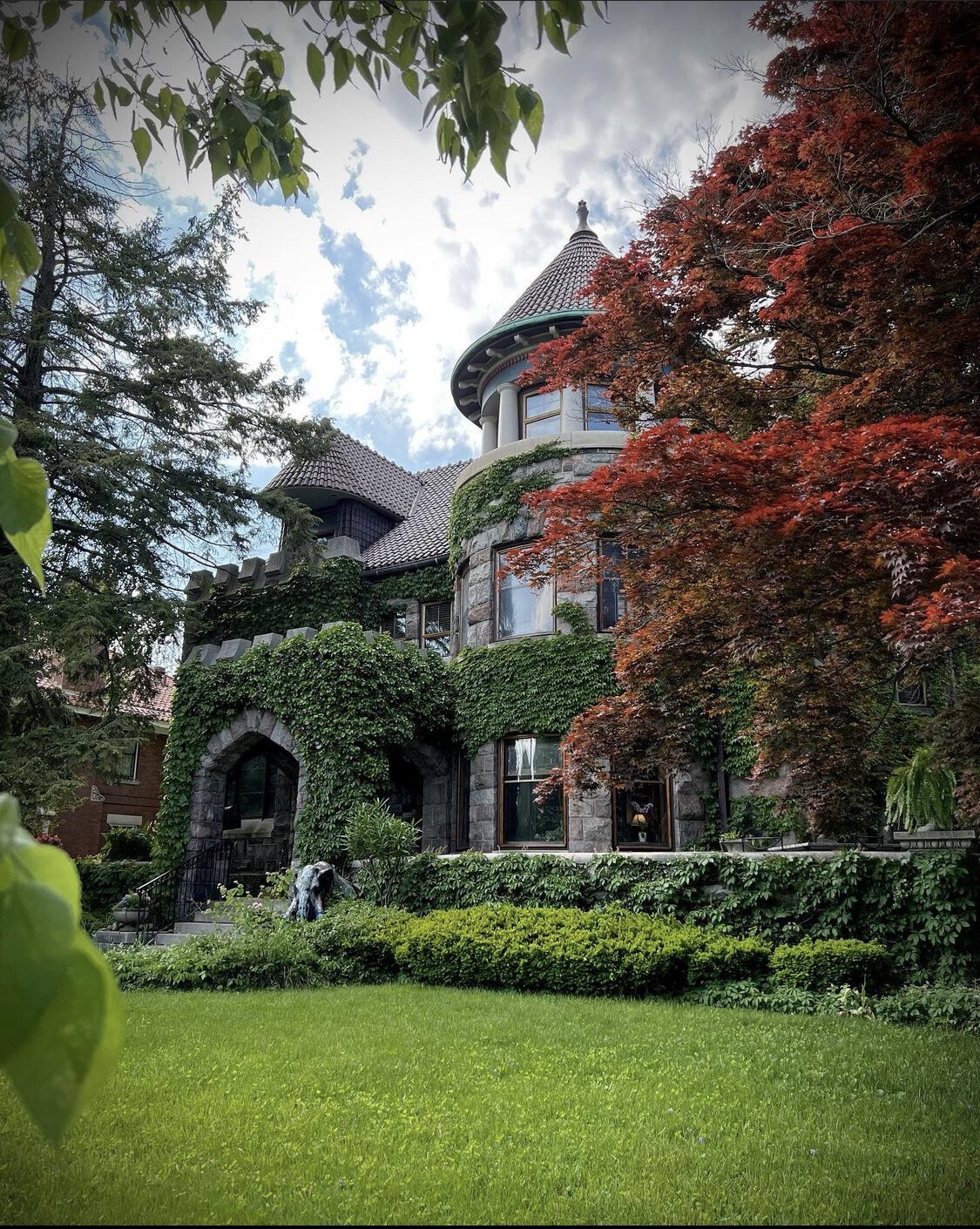 The Castle Gallery in West Central offers a unique experience with artwork in a historic setting.


Later in the day, wander down Wayne Street to J.K. O'Donnell's Irish Pub, where you might catch the Ragtag Bunch, leading the pub in a song or two. Need more tips? Strap on some skates, and hit the ice at Headwaters Park Ice Rink, and grab a Coney Island dog after, or toast to a classy, jazz-filled evening at Club Soda, like Harrison Ford, who (legend has it) visits the bar every year, and even has a martini on the menu: "The Harrison Ford."

—

Downtown Fort Wayne is growing and changing, and there's no better way to experience it than booking a room and browsing the streets yourself.

This story is made possible by support from Downtown Fort Wayne. in partnership with Input Fort Wayne. Photos by Rachel Von Stroup.